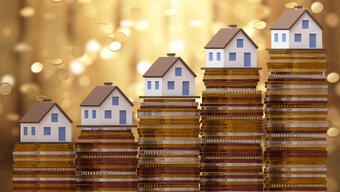 Thus, the number of residential units sold in Romania in the first 10 months of 2021 increased by 65% compared to the same period form 2021, according to official data from the National Agency of Cadastre and Real Estate Advertising.
This result was possible not only as due to reporting to the first two quarters of 2020, significantly impacted by the circulation restrictions. Each of the first nine months from 2021 established a new record in terms of monthly transactions closed in the respective month, both nationally and in the largest regional residential markets in Romania.
At the same time, home deliveries increased annually by 5.3% in the first six months of 2021, setting a new record for the first half of the year, according to data from National Institute of Statistics.
Over 25,000 new dwellings were in construction in 2021 only in Bucharest and its surrounding areas, quantifying investments of over EUR 750 million, while the annual investments carried out at a national level exceed the EUR 1.5 billion threshold, reveals SVN Romania's "Residential 2021 Market Drive" report.
"Record results recorded in 2021 were possible in a context in which the accessibility of buying a new home reached its best level in recent history – despite price increases caused by significant increases in construction material costs. Wage increases partially offset this but inflationary trends, intensified competition and potential negative developments of the Covid-19 pandemic could still put their mark on the local residential market", a stated Andrei Sarbu, CEO SVN Romania.
Company`s data show that Timisoara became the largest regional residential market in Romania, except the Bucharest – Ilfov region, surpassing Cluj – Napoca both in terms of home deliveries and residential units sold.
This happened mainly after the residential deliveries recorded in Cluj – Napoca`s region significantly decrease over the last two years, below the 5,000 units level, in a context in which land plots suitable for immediate development became scarce, while the permit approval process became harder.
Local residential markets from Brasov and Constanta will attract the delivery of over 7,000 new homes this year, according to SVN`s data. The macroeconomic developments of the two cities, increases in local demand and the investment potential, especially in Navodari – Mamaia region, were the main growth engines.
SVN Romania is one of the most important real estate consultants active in Romania and the market leader on the residential segment. The company also has two regional offices, in Brasov and Cluj – Napoca, and is the consultant and exclusive agent for over 20 residential projects in Bucharest and in the country, among whom are Arbo Residence Mogosoaia, Art City, Avrig Park Residence, Belvedere Residences, Cosmopolis and Liziera de Lac. SVN International Corp. has over 200 offices in eight countries and regions, with 1,600 consultants and staff.