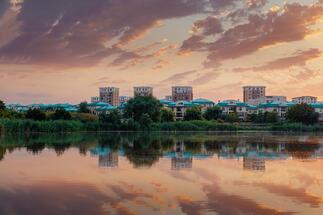 Thus, Opus Land, the developer of the project, registered a turnover of EUR 29.5 million in the first nine months of 2021, compared to EUR 30.6 million registered throughout entire 2020. The good results registered this year were determined mainly by the vast list of facilities available in Cosmopolis and by the attractive products existing on the villa segment.
"The Covid-19 pandemic was felt much less harshly by the inhabitants of Cosmopolis, perhaps the best example of an integrated project locally. The project offers a multitude of facilities and leisure activities without having to leave it, from the private beach to the dozens of swimming pools and restaurants, playgrounds and numerous shopping options. Demand for housing in integrated project increased explosively throughout this period and the fact that we have an attractive product on the villa segment contributed to our sales result – the demand for villas increased by over 70% this year, we cannot keep up with demand", stated Gabriel Voicu, vice-president SVN Romania and project manager Cosmopolis on behalf of the company. SVN Romania is the real estate consultant and exclusive agent of the project.
Total investments undertaken this year by Opus Land in the development of Cosmopolis will amount EUR 29 million, on third above the investment registered in 2020. The amount will be directed both to housing development and towards the expansion of the general infrastructure of the project. This year was opened for the traffic the second access road to and from Tunari, in the northern part of the complex. Cosmopolis already reached over 4,400 residential units delivered and a community of over 12,000 residents.
Among the facilities existing in Cosmopolis are two kindergartens, two parks, a private beach on the nearby lake, over 44 outdoor swimming pools, numerous restaurants and coffee shops and a ultra-modern gym, inaugurated in 2019.
Moreover, in the project there are found a supermarket, a bakery, service spaces, traditional shops, veterinary clinic, several beauty salons, while the road infrastructure accounts for tens of kilometres of roads and pedestrian alleys.
The prices in the project start from EUR 45,900 + 5% VAT for a studio (45 square meters constructed area) and from EUR 109,900 + VAT for villas (GF + 1, 99 square meters constructed area).
The development of the project is carried out according to a carefully planned long-term vision, being expected to continue until at least 2033, when Cosmopolis is estimated to include over 12,000 homes and a community of approximately 30,000 inhabitants – like the populations of cities like Campina, Campulung Muscel or Sighisoara.
The total investment undertaken in Cosmopolis up to this moment exceeds 370 million Euros, being one of the biggest in the local real estate market, regardless of the market segment.