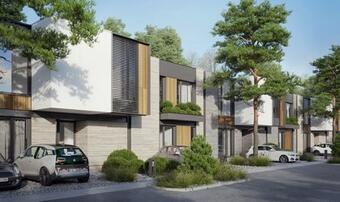 The first green suburb in Romania, Amber Forest, includes over 500 green villas and 200 green apartments, developed on 31 hectares, with only 15% of the built area, with the lowest land use coefficient.
The suburb of Amber Forest will have complete, high quality infrastructure, school, kindergarten and afterscool, with over 5.3 hectares for parks and green spaces, grounds and gyms, running tracks and bicycles, spa and fitness room, supermarket, market, bakery, restaurants, cafe, pharmacy, polyclinic, co-working space with conference rooms, as well as direct access to Băneasa forest, the largest forest around Bucharest.
With over 18 years of experience in the residential field and successfully completing the first green housing community in Romania, Amber Gardens, Alesonor starts the first green suburb in Romania, an investment estimated at EUR 110 million.

Developed 14 km from Victoriei Square, on an area of 31 hectares, Amber Forest will have an opening of approx. 1 km to the Băneasa forest and stands out through a unique master plan: with 85% free construction land, the project has the lowest land use coefficient, being dominated by green spaces and low-rise buildings.
The Amber Forest community offers several types of green villas (starting from 2 bedrooms), which meet the multiple preferences and needs of space and budget, as well as green apartments, in low P+2+r buildings, being the first homes in Romania which complies with the NZEB energy standard, imposed by the European Union since 2021. Respecting the same quality standard as the Amber Gardens villas, the new villas and apartments are quality, durable constructions with modern design, integrating state-of-the-art technologies and smart home. Thus, Amber Forest homes are accessible through the green mortgage loan, a loan specially designed by financial institutions to support the purchase of green, energy-efficient villas and apartments.