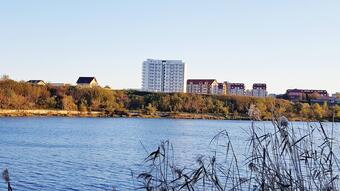 Considering the affordable prices and the location in the area of Lake Dobroești-Fundeni, which brings with it a lot of green space nearby, the developer announces that only 10% of the new apartment block is still available. The sale was handled by the real estate agency Green Alley.
The residential complex comprises two blocks, Solis 1 and Solis 2, which have studios), 2-room, 3-room and penthouse apartments, with prices starting from 55,400 euros + VAT to 143,200 euros + VAT (for penthouse with terrace 97m) and the possibility to select from three types of finishes available.
According to the developer, the residential complex, whose development began in late 2015, is planned to include over 1,500 apartments in 5 blocks and a commercial area.
Less known in Romania, the Israeli real estate group is a well-known one in the country of origin, being listed on the Tel Aviv stock exchange for almost 70 years.