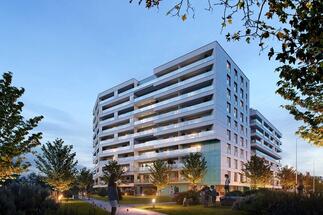 Bog'Art is one of the largest and most reputable construction companies, with a vast portfolio of projects served through integrated production, design, building management and real estate investments services. Along Bog'Art, the financial and strategic partners that contribute to the realization of Art City are: OMV Petrom, CEC Bank, Deutsche Schule Bukarest, The Institute, Delta Studio and SVN Romania.
Art City is a luxury residential project, located in the northern Bucharest. The project is part of Petrom City's urban regeneration masterplan. The area where Art City is being developed is in full expansion, with easy access to business and commercial centres, and benefits from an excellent infrastructure, with four lanes roads, bicycles lanes and appropriately sized utility networks.
Art City is under construction and will be BREEAM sustainable certified, which certifies internationally the implementation of the most sustainable approaches through the use of solutions, techniques and construction materials with a reduced impact on the environment.
Among the top technical features of the project are: smart home systems connected to underfloor heating, triple layered parquet with aluminium plinth, Porcelanosa ceramics, Laufen sanitary, customized aluminium carpentry, large panoramic elevators, green spaces on the roof, secured access with barriers equipped with intelligent recognition solutions and electric cars charging stations.
In addition, Art City residents will be digitally connected through a concierge application, through which residents can access recurring maintenance and cleaning services in a centralized system of payments and building management activities.
"For 30 years Bog'Art is building special buildings that have stood the test of time and became city emblems, gaining credibility that we can create new landmarks with each project in which we are involved. Art City is a development standard for Bog'Art, responsibly implemented from the first urban concept to the last detail of execution by a team with vast experience and professionalism, together with long-term partners with whom we develop our own projects", stated Bogdan Doicescu, Bog'Art Development Director.
Bog'Art has a vast portfolio of projects served through integrated production, design, building management and real estate investments services. Among the most important buildings constructed by Bog'Art are: City Gate, Charles de Gaulle, Tower Center, The Bridge, Timpuri Noi Square, Expo Business Park, Jiului (J8), numerous modern office buildings from Aviatiei/Barbu Vacarescu/Pipera area, IKEA Pallady, Baneasa Shopping City, USA Embassy, Berceni Passage, Brasov International Airport, renovation of Hilton Athenee Palace and Baneasa Airport, among many others.
"The residential market has been very little affected by the general context of the last 12 months, registering its best result in the last decade, whether we are talking about the number of real estate transactions or deliveries. Thus, interest from investors towards the residential segment is growing, compared to that existing in other segments of the real estate market. Carefully designed projects and with a well-prepared sales strategy are registering excellent results, all the units being sold before delivery", stated Andrei Sarbu, CEO SVN Romania, the real estate consultant and exclusive agent of Art City.
Art City was officially launched during Romanian Design Week, the most important profile event in Romania, which promotes excellence in design, architecture, creativity and innovation as tools for cultural, social and economic development.