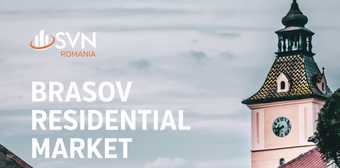 The results recorded by the residential sector in Brasov, one of the main residential regional markets in Romania, can be considered all the more positive as the market was significantly affected by the two months of circulation restrictions during the National State of Emergency.
However, the total number of transactions closed on the residential segment at county level in the first eight months from 2020 increased slightly compared with the similar period from 2019, up 0.8%, according to official figures published by the National Agency of Cadastre and Real Estate Advertising.
At the same time, transaction prices of dwellings located within Brasov, regardless of the segment – new or old – or the delivery date, increased slightly in the last 12 months, with 2.1% according to the data of SVN Romania | Brasov, the local office of SVN Romania.
Thus, the medium transaction price from Brasov reached EUR 1.195 per square meter. The lowest prices on the new segment, 850 €/sqm are registered in the city's suburbs, while the prices from Astra and Tractorul areas from the city can reach 1.100 – 1.150 Euros per square meter. The most expensive areas are the central one, with 1.400 Euros per square meter, and Calea Poienii, with EUR 1.630 per square meter, according to SVN Romania | Brasov data.
"General absorption rates remained high during 2020, with approximately 85% of the units being sold prior to the delivery dates. Brasov's residential market is still attractive to investors, even in the occupancy on the touristic segment drop to less than half compared to 2019. Even so, the potential yield that can be obtained by renting the units on the free market can reach 6% per year. Brasov has over 25.000 students and has maybe the biggest growth potential on middle to long term, taking into account all major public
investments that will be completed in the future, form the new Brasov International Airport to Ploiesti – Brasov highway", stated Razvan Calita, managing partner SVN Romania | Brasov.
The residential sector is one of the most important pillars of Brasov's regional economy, yearly deliveries stabilizing at a level of approximately 3,000 – 3,500 units. Approximately 3,250 new homes could be delivered this year in Brasov and its surroundings, slightly decreasing compared to 2019, due to a lower number of issued permits in recent years, following several changes brought to the legislative framework.
Over 80% of the new residential units are located within the city, while the neighbouring localities attract the delivery of 600 to 800 new homes every year – the most developed are Ghimbav, Tarlungheni and Sanpetru.
The biggest share in the new offer from Brasov is represented by units targeting the mass market segment, characterized by projects located in the suburbs or on the outskirts of the city and prices that could go up to EUR 1,100 per square meter, according to SVN Romania | Brasov data. At the same time, approximately 32% of the new offer target the middle market segment, characterized by better location, bigger surfaces and medium transaction prices of EUR 1,200 per square meter. (source: SVN Romania)