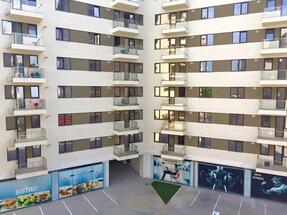 Thus, a number of 156 studios and apartments are available for rent, and the total investment in this project amounts to over 20 million euros.
The Vitan Estates residential complex, intended exclusively for rent and developed on a western system, is centrally located, in the immediate vicinity of the Mihai Bravu metro station, on a plot with a total area of 7,000 square meters. With this new stage completed, the project comprises 3 blocks, with a height of 10 and 11 floors and a total of 320 homes available for rent.
"Carrying out similar projects in the US, we realized that there is no such real estate concept on the Romanian market, so the idea to invest in a residential complex intended exclusively for rent came naturally. We address young professionals, Romanians and expats both single people and couples who have a certain lifestyle and who want to live in a modern, centrally located residential neighborhood with quick access to the subway network, but also accessible to personal car owners", says Kim Vrânceanu, CEO of Bucharest Properties. "Since 2016, when we completed the first stage of the project, we wanted to create a community by attracting customers who love our lifestyle and rent long-term. We have prepared a lot of facilities for tenants, including a cash back system, so as to encourage long-term rental, but also to make customers responsible for keeping the apartments in the best possible condition", adds Kim Vrânceanu.
The first stage of the project, launched in 2016, required an investment of 10 million euros. The occupancy rate of the apartments is, on average, 90%, about a quarter of the tenants being in the complex from the beginning. The financing sources were from own funds, but also from a loan contracted from First Bank, partner of Vitan Estates also in this second stage of the project.