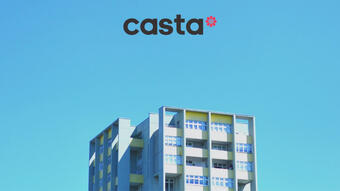 The real estate platform Casta, part of the Neogen group, has launched FastBuy, a new innovative online service that buys apartments for customers who have found their future home, but depends on the sale of the one they live in or the approval of a loan to obtain the necessary purchase. .
With an advance of only 5%, Casta offers them the opportunity to move immediately to the new house and thus gain time to obtain the necessary funds. The FastBuy solution is currently addressed to customers in Bucharest.
At a time when many Romanians continue to work from home, and the apartment has become an office, but also kindergarten, school, gym and more, almost 27% of participants in a survey conducted through the BestJobs platform, part of the same group, say that their current home does not meet the needs they have to carry out their professional activity effectively.
In the absence of a dedicated office or workspace at home, almost 35% of respondents admit that the living room and kitchen are the main places where they carry out their work activities, while almost 15% of respondents say they improvise every day. In this context, over 28% say that working from home has led them to think of a new home that will provide them with more space and comfort to work from home. And aspects such as the area, the proximity to the office, but also to the children's school or shopping centers have become more important than ever in choosing the future home.
"As the process of selecting and purchasing a home takes a long time and often involves obtaining a mortgage, FastBuy offers Casta customers a digital solution for quickly buying the apartments they want when they need time to get a loan or sell the old apartment, but want to secure the offer found. Basically, through the new service they can take advantage of the moment when they find their future home. And for clients who are still looking for a home but want to move as soon as possible, the real estate platform comes with solutions to find the ideal apartment and including facilitating access to finance in a very short time", said Horea Crăciun, General Manager of Casta.
At the same time, the InstaBuy service launched last autumn, through which apartment owners have a fast, safe and comfortable solution to sell their property in record time, has been expanded and now represents an opportunity for real estate agents who they have the opportunity to develop their activity and supplement their income. On the one hand, when they represent clients who want to sell an apartment, they can ensure, together with Casta, a cash offer in just 3 days for their apartment, and in addition to the advantage of quick sale, they also get a commission from the transaction value. This type of collaboration also provides them with access to all Casta properties with guaranteed commission, regardless of the purchase method preferred by their customers, as well as to all sales offers on the platform, with exact location, without duplicates and without other intermediaries.
The Casta platform offers property owners a full range of services, from promoting sales ads or instant sales through the InstaBuy service to finding and buying customer apartments through FastBuy, as well as solutions for buyers, including credit brokerage and support. finding the best financing solution to complete the purchase of their home. (Source: Casta)