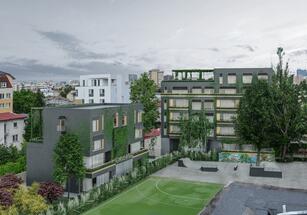 The land bought by Forty is one of the largest inside the central ring of Bucharest, in an area in full development. In the area, the Central Apartaments project, by the developer 1 Development, is being developed, several small projects and the acquisition of a plot of land by the businessman Dan Șucu, in the Circului Park area, was announced.
"Central District Viitorului 134 means a boutique project, with 33 generous apartments, divided into 2 buildings, which means a small community, united by the same desire to share our values related to high quality of life, attention to detail and design. Central District Viitorului we want to be the first residential project in Romania that intertwines real estate development with unique manifestations of urban art, which will bear the signatures of established street art artists. The fence of the building, the access hall, the halls of the floors, will all be ennobled by the creations of the artists co-opted especially for this project, and the most impressive creation will be a blue giraffe, built and mounted on site, which "feeds" on the leaves of the pergolas on two floors", said Lucian Azoiței, CEO of Forty Management.
This spring, Forty Management began construction of Central District 4 Elements, the first residential project with a running track on the roof in Romania. Azoiței says that in the first five months of sales of this project he pre-contracted 75% of the apartments and rented 50% of the commercial area. The manager's plan is to end the year with the acquisition of two more plots of land in the northern part of the city.
"We intend to develop on one of these lands the most exclusive project in Romania, and on the other a project we have been working on for over 5 years, a large development, with over 1,200 apartments and an office building of 25,000 sqm, in to implement a unique concept in Europe. ", explains Lucian Azoiței.
Forty Management is the promoter of the latest residential development concept in Romania, affordable luxury. Forty is developing residential projects under the Central District brand and is now working on the Central District 4 Elements project, a development with 192 apartments and 1,500 sq m of commercial area, with a value of 22 million euros. The company has completed 90 apartments and has another 244 apartments under construction, including exclusive developments such as Central District Polona 25 and Central District Cuza 99.