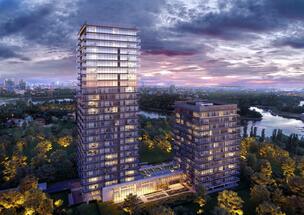 Although the building permit for the residential complex was obtained by the developer a year ago, the difficult conditions in the construction market, generated by the SARS-COV-2 pandemic, led to the decision to postpone the start of the construction site for a year. However, last fall, Atenor began the sale process through the Knight Frank agency, which is the sole agent for this new top residential development.
The Floreasca-Barbu Văcărescu-Pipera area, located in the north of the city, is known as the new office pole in the Capital, attracting most of the investments in this segment from the last decade, and not only. Many compare it to the La Défense area of Paris or the City and Canary Wharf in London, given that more than 100,000 employees work here.
Although the pandemic has hit the office market hard, it is estimated that it will recover in a year, so for residential developers Floreasca is an area with great potential. In addition to the accessibility of the two metro stations in the area - Aurel Vlaicu and Pipera, developers who choose this area for their residential projects also enjoy the vicinity of Lake Floreasca, one of the most beautiful in Bucharest. Also, Herăstrău Park, the largest in Bucharest, is a short distance away, increasing the residential stake in the area. The proximity of one of the most popular malls in Bucharest, Promenada, is also an advantage.
The new project of the Belgians, known on the real estate market for the Hermes Business Campus, Dacia One and @Expo office buildings, is already half sold, according to a press release of the developer. The project will include two residential towers with a height of 12 and 15 floors respectively, which will be connected to the ground floor, including a number of 270 residential units, which will benefit from both a top positioning and various facilities, such as a spa with pool and fitness room, urban green spaces on 38% of the land area, storage spaces and parking lots.
The developer has also invested in state-of-the-art technologies, both in terms of earthquake and wind safety, as well as air quality and energy efficiency.
The prices of the apartments for sale start from 114,350 euros, for the two-room units and can reach almost 930,000 euros for the penthouse. (source: Antenor)