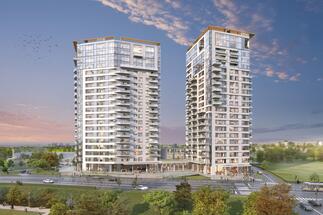 The newest residential concept developed by One United Properties for the exclusive One Verdi Park has received a construction permit. The two towers of the complex developed close to Verdi Park will offer future residents a truly high-end living, as they will be the tallest exclusive residential towers in Bucharest. In addition to the residential units included in this project, One Verdi Park will also encompass numerous great facilities such as a restaurant, shops, or market.
Located in the northern part of Bucharest, the complex is formed by two 77-meter-high towers with panoramic views of Floreasca and Tei Lakes. One Verdi Park is shaping the real estate market in the Romanian Capital as an innovative project, not only by the quality of the technologies used but also by the unique design signed by the architect Marius Călin, leading X Architecture & Engineering office.
While the south tower at One Verdi Park is almost entirely pre-contracted, apartments in the north tower have recently become available for sale. These will also include an interior design project created by Lemon Interior Design, one of the best emerging interior designers in Europe, awarded in London at International Property Awards in 2020. Lemon team will also design the 5-meter-high lobbies of the two towers, with a contemporary approach meant to emphasize the architectural elegance and cosmopolitan vibe of the building's entrances.
One Verdi Park continues the community-centered concepts that the developer is well known of and will offer great facilities for future residents. A top restaurant with a generous terrace, but also shops, market, café, or a beauty salon will be located on the ground floor, among other facilities specially designed for this location. These spaces are integrated in an urban plinth – the promenade of all daily ceremonies: housing, transportation, creativity, services, leisure for teenagers, young families, retirees. In addition, due to the special positioning of the terraces opening onto the entire width of the living rooms (minimum 4 meters) and the dominance of glazed surfaces to the upper floors, the apartments will offer future residents panoramic views over Floreasca and Tei Lakes. (source: One United Properties)