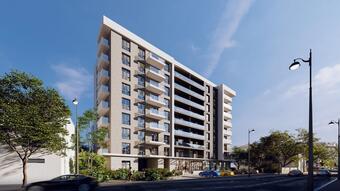 Through this initiative, the developer supports and contributes to the increase of the Romanian electrical infrastructure, providing for the future residents Core Timpuri Noi up to 25 charging stations. The project developed by the company thus becomes the residential complex with the most on-site charging stations in Bucharest.
Located near the new Timpuri Noi business center, on Foișorului Street no. 108-112, the Core residential complex brings together a complex of double studio apartments, with 2, 3 and 4 rooms and approaches a smart-minimalist style, with the latest integrated technologies. Among these technologies is the network of gas stations for electric cars, which offers future residents the opportunity to charge their car in fast-charge mode, in the parking lot of the complex. The 22kW charging power ensures a full charge in about 3 hours and will be available to every resident who wants to purchase the parking space equipment with this system.
Prima Development Group can provide up to 25 electric charging stations in the Core Timpuri Noi ensemble. The structure for the electric charging network is based on the supplementation of the available power within the residential complex through the transformation stations in the project. The implementation of an intelligent management system of available electric power allows it to be distributed equally to all charging stations.