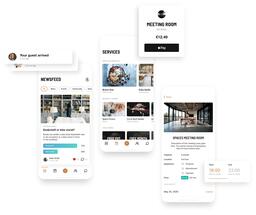 And for good reason. Denmark was named the world's second happiest country in 2019. Communities there are more than grouped homes but are about neighbor gatherings, about combating loneliness, about sharing experiences. As our lives become more reliant on technology, and concerns remain about direct social contact and group gatherings, this sense of community has shifted into the digital layer. Technology that connects elements that share a space including systems, people, and the data they generate may be the facilitator to the next level of community.
There is no lack of discussion around the implications of the pandemic and an increasingly isolated lifestyle on our mental health. With the number of adults reporting symptoms of depression within the United States tripling during the COVID-19 pandemic and Denmark still showing a much lower rate of depression than other countries, multifamily buildings are looking for ways to combat loneliness without increasing the risk of exposure. The answer is connecting people through the digital layer.
Buildings have always created communities but outside influences have made that more difficult. "Knowing thy neighbor is becoming increasingly rare and technology is there to bridge that gap by offering easy communication tools," explained Isabelle Jaconelli, Community Manager UK at Spaceflow, a tenant experience platform. "Connecting with your neighbor doesn't need to be an obstacle anymore. It can be done organically via an app so instead of seeing someone face to face, you can connect to them virtually as an initial step."
Like an overarching umbrella, these platforms connect systems, data, and people within buildings. In the process, the building becomes a community but the community extends beyond the building and into local areas, too. Becoming a digital layer for the building and surrounding areas, those engaging with the app benefit from it but also they nurture its growth through engagement. The app and users, whether they live in the building, work nearby, or are part of a local business, develop a symbiotic relationship.
On this journey for community (and that "hygge" feeling that we are all chasing), it could be argued that building managers need to strengthen their community management skills. These individuals and teams require the right tools to make life better and easier for both themselves and the tenants. The right user experience is straightforward and accessible for anyone to use and benefit from it. As engagement grows, users become more integrated into their community and start relationships with other tenants as well as the building teams. They're also creating a digital space for providing feedback to managers.
A strong correlation has been shown between the number of friends in a building and the resident's intent to renew their lease. With no friends, only 29 percent of residents intend to renew, while those with a friend jump to 38 percent. Almost 50 percent of those with seven or more friends intend to renew. These friendships can be inspired through interaction on a newsfeed like the one Spaceflow hosts. For example, Cobblestone operates a 92-unit multi-family building in Copenhagen where encouragement to use the newsfeed was part of the user onboarding process. "Activity on the newsfeed grew from asking questions and getting local recommendations, to selling sofas and finding someone to water the plants when tenants were out of town," said Anna Gäfvert Veloso, Head of Community Management at Spaceflow. "It grew into a working, and friendly, ecosystem."
However, creating good relationships isn't just helpful to tenants; when building teams have easy communication with tenants, it can save the management teams time. Time is a very valuable resource for property managers. "The app doesn't necessarily need to require more time or effort, it requires a change in how work is done," explained Veloso. "If you can run the whole building through the platform, it saves time and gives managers more time for important stuff like building relationships with tenants. If you have a difficult or unhappy tenant, it's going to take more time to resolve issues."
Tenant experience platforms are a consolidated solution for many of the common challenges and opportunities facing building management teams and their occupants. As all tenant-facing features or processes within buildings and the communities they foster are translated into a digital layer, it streamlines practically every process for both tenants and managers. From ticket resolution to monetizing buildings, reservation systems, smart building features, and more, these platforms are a seamless and sustainable way to stay ahead of the curve by adopting technology now and adding more functionality as is required.
We are moving towards using an app for everything we do. If we're hungry, we open our phones to order delivery or find a new recipe. Feeling stressed? There's an app for that, too (many use Calm). It only makes sense to go to an app to solve other problems like a burned-out lightbulb or reserve a room for a meeting. "All buildings need one operating system for their occupiers. Occupiers shouldn't have to jump between multiple apps to use their space effectively," outlined Lukas Balik, Spaceflow's CEO. "Tenant experience platforms have evolved as the main building integrator and now play a critical role as an umbrella for almost every use case in a building."
Ongoing education about what tenant experience is and how it is contextually relevant for property managers, and as a competitive advantage, is important. Solving challenges and making life easier for both tenants and building teams while attracting and retaining residents is a rational next step. "It's not only about working with communities, it's also about working with experiences. We're giving tenants a heightened experience of life," Jaconelli stated.
Spaceflow is a tenant engagement app platform that helps asset owners increase asset value, unlock new revenue sources and become data-driven. Spaceflow is already implemented in Romania in the SkyTower office building in Bucharest, through Online Real Assets, Spaceflow partner in Romania.