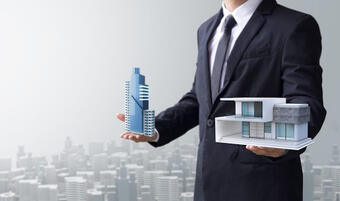 Other segments that can benefit from relatively stable demand are data centers, buildings with life sciences facilities (pharmaceutical, biotechnology and medical device companies), new energy / infrastructure, industry and communications towers.
"The pandemic has forced millions to work from home, closed retail stores and accelerated structural changes affecting the three mainstay sectors of the real estate world - office, retail and hospitality. Thus, investors in the least disturbed sectors and those that underwent accentuated digitalisation over the last year are the main beneficiaries in the current market. The trends in Romania are similar to those across the rest of Europe and we can see an increased appetite for investments in residential and logistics real estate", said Francesca Postolache, Partner PwC Romania.
Top real estate assets in 2021
Given the strong growth in remote working and ongoing uncertainty around how that trend may play out over the longer term and the future role of the workplace, no office sectors feature in the top ten this year.
For 2021, the "flight to safety" for many investors involves technology, so three of the top four property types in the Emerging Trends Europe's sector rankings are likely to benefit from the increased pace of digitalisation around the globe, as boosted by responses to COVID-19, including data centers, communication towers and logistics facilities.
The residential market remains highly favoured by investors, with three sectors in the top ten representing some form of residential real estate.
Top cities
The city rankings in this year's report reflect both the caution and opportunities driving the market, with a focus on cities believed to offer liquidity and stability. Berlin tops the list as the overall favourite for prospects in 2021, with investors encouraged by the relatively strong performance in tackling COVID-19 by Germany as a whole. In fact, three German cities appear in the top 10.
London has climbed two places to second as investors see it as providing good long-term value. Paris remains in the top three.
The industry sees the merits of small- and medium-sized cities, provided they are well connected, with transport connectivity overwhelmingly considered the most important factor in assessing cities.
Other forecasts
Security of income in non-core assets is causing concern, but 55% of investors expect to be net buyers of real estate in 2021. The survey shows a marked decline in business confidence for 2021, with almost half the respondents expecting a fall in profits and a quarter anticipating job losses. Domestic investors are expected to come to the fore across Europe in 2021. About a third expect European investors to increase their commitments in 2021. Real estate executives were cautious about the overall outlook, resulting in a marked decline in business confidence, with 28% foreseeing a decrease in business confidence, compared with 13% in 2019. In addition, 44% anticipated a fall in profitability, compared with 15% in 2019.
The Emerging Trends in Real Estate 2021 survey, conducted with nearly 1,000 industry leaders in Europe, can be found here.