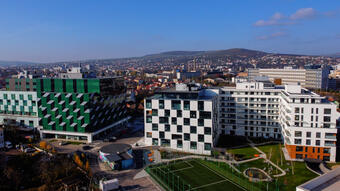 The Cluj Business Campus project is a total investment of 27 million Euros that brings the New Urban concept, already popular in developed countries, on the Cluj market. The concept anticipates the work and leisure needs of campus residents, offering a wide range of business and after-business services, within a radius of just 100 steps.
In the over 30,000 sqm, there are offices, apartments, a bistro, a sports field, a fitness room, a business incubator, a park, a kindergarten and a school with teaching according to the international curriculum, and the campus will complete the services offer available with a co-work space and a barber shop.
The CBC 3 office building is 75% leased by Bitdefender, Catalysts and the Royal School in Transylvania. Employees of partner companies have the option to buy or rent apartments on campus, and time spent on tiring commuting to other residential centers in the city can now be better used. CBC Bistro, CBC Fitness Corner, CBC Park, CBC Football Arena and events dedicated to the CBC community are leisure options.