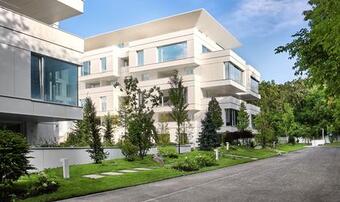 With a priority to care for the environment and the adoption of the most advanced sustainable solutions, Ţiriac Imobiliare is the owner of the first residential building in Bucharest certified as Green Homes & BREEAM with an "Excellent" level. Stejarii Collection, the newest project in the portfolio, was built to achieve the high standards of energy efficiency and sustainability required by this performance level.
The two international certification systems are specifically designed to improve the residential sector and assess all elements that define a "green home," from the environmental impact to the impact on residents' health and comfort. The dual certification validates energy performance and compliance with environmental standards, making Stejarii Collection an example of sustainability and ecological performance.
"Obtaining the dual Green Homes and BREEAM certification with an 'Excellent' performance grade for Stejarii Collection is an achievement that strongly attests to the fact that Ţiriac Imobiliare's sustainability and efficiency standards seamlessly blend with the commitment to the environment and the residents of the Stejarii complex. The dual certification we obtained validates the fact that by constructing Stejarii Collection, we are setting a new standard of excellence in urban development and reaffirming our commitment to quality, innovation, responsibility, and a cleaner future for us and the generations to come," stated Răzvan Enache, General Manager of Ţiriac Imobiliare.

The BREEAM system involves evaluating the environmental performance of buildings based on a wide range of categories, including environmental management, residents' health and comfort, energy, transportation, water, materials, waste, soil and water pollution, land use, and ecology, innovation.
Stejarii Collection achieved remarkable scores in all the categories considered in the evaluation process, with preliminary results placing it in the "Excellent" category, obtaining a total of 89 credits.