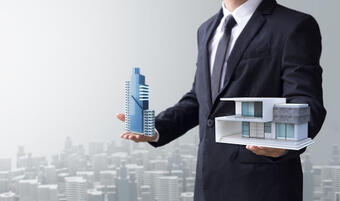 In 2021, Austrian companies bought real estate assets - offices and retail space worth a total of 323 million euros, followed by investors from the Czech Republic with a total of 173 million euros and third place those from Hungary with 150 million. In the first months of this year, Czech and Hungarian investors remained at the top.
Transactions with commercial assets in Romania amounted to 919.45 million euros in 2021, which represents the historic third place (after a maximum of 1,038 million in 2008 and 1,006 million in 2018). At the level of the European Union, in 2021, investments in commercial real estate increased by 15%, compared to the previous year, reaching 270 billion euros, thus reaching an ante-pandemic level.
"Both in Romania and throughout the European Union, there is an increase in the activity of domestic and regional investors, to the detriment of those in the Middle East, Asia and the Pacific who are no longer as active (against the background of the pandemic). Investors from the Middle East, Asia and the Pacific accounted for only 8% in Romania, compared to 20% in 2019 before the pandemic. At the level of the European Union, investments in these regions have also decreased to 15% of the total, in 2021, compared to 22%, which they represented in 2019 ", says Bogdan Cange, Managing Partner - Business Development, of Fortim TA, member of BNP Paribas Real Estate Alliance.
In 2021, real estate investments in the countries close to Romania, Central and Eastern Europe, respectively the Czech Republic (which totaled 173 million euros) and Hungary (150 million euros) increased strongly in volume.
In second place are investors from the Czech Republic, the biggest player being the Czech investor CTP, specialized in industrial spaces. CTP has developed its chain of industrial parks in Romania, allocating to our country 33% of the total expansion funds in 2021. Thus, CTP bought the portfolios Zacaria and Helios Phoenix - Olympian Park, as well as the Mobexpert warehouses in Târgu Mureș. Thanks to this investor, the segment of industrial space acquisitions has increased in Romania from 65 million euros, in 2020, to 284 million, in 2021. This year, CTP is looking to acquire industrial spaces at high standards, ready for operation.
As a novelty, for 2022, another investment fund from the Czech Republic is analyzing the development of a new project, of several tens of thousands of square meters of offices in Bucharest, in the central area.
Investors in Hungary are in third place as a share of total real estate investment and target the residential and office space segments, being increasingly active. Last year, Adventum, from Hungary, took over the Hermes Business Campus project in Bucharest with about 150 million euros.
Another example is the company Kesz, which started in Romania as a construction company, but which developed an office building in Cluj-Napoca, Hexagon Offices, with a leasable area of 21,600 sqm, fully leased from December 2019 until October 2021, during a pandemic. Fortim has been appointed as a consultant in the rental of the project. Last year, Kesz also entered the real estate market in Bucharest, buying a plot of land in the Străulești - Petrom City area, on which it will develop a residential neighborhood.
The local investors are on the fourth place in the top. Romanian-owned companies purchased real estate assets totaling 119.55 million euros. Among the major Romanian investors that have competed with foreign investors are Dedeman and One United Properties.