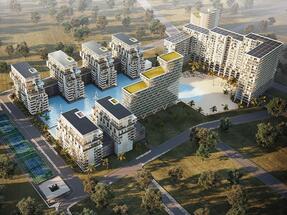 The land is located on 18 Coralilor Street, near Petrom City and the German School and has an opening of almost 250 linear meters at Străulești Road and 157 meters at Coralilor Street.
"Our intention is to implement on this licensed land purchased from Crystal Lagoons what we need to have a friend with turquoise waters and idyllic white sand beaches of over 20,000 sqm. Central District Lagoon City will be a real urban reconversion of an industrial land, in a large mixed project with 570 apartments, hotel, offices, commercial spaces, recreation spaces, urban gardens, which will surround this person. Crystal Lagoons technology allows residents to practice swimming and water sports, such as kayaking or winter skating, among others; or simply relax on the beach and enjoy the idyllic view of the water without having to travel beyond your own backyard. Central District Lagoon City will be the first project in Central and Eastern Europe 100% "green", energy efficient self-sustaining through independent renewable sources, another level in urban development and reconversion, an investment of over EUR 100 million", said Lucian Azoitei, CEO of Forty Management.
Forty Management is an internationally awarded real estate development company that develops mixed projects under the Central District brand. The company has several completed residential developments (Central District Polona25, Central District Cuza99), another 243 apartments under construction (Central District 4 Elements and Central District Future 134) and 600 apartments in the immediate development plan (Central District Lagoon City and Central District Royal Suites).
This year Forty Management acquired one of the most expensive vacant lots in the Herastrau area, a plot of almost 3,000 sq m near the Băneasa Royal Railway Station, where it intends to develop a residential building with 30 apartments with a contemporary art gallery on the ground floor.