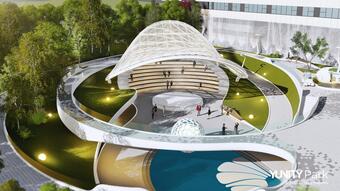 The project is expected to be completed in the first three months of 2023, with a total investment of €50 million.
YUNITY Park is designed as a campus developed in the extension of the office buildings, providing urban support for experiences tailored to people's lifestyles, not only for the time spent in the office, but also for personal or social time.
"YUNITY Park represents the future of life at and beyond the office. It is an urban destination, strongly represented by the public space where professional and social life see equal opportunities for fulfillment. The current parking area will be transformed into an urban forest, with spaces for events, recreational experiences, and outdoor workspaces organically integrated. All of these are intended to bring together the local and corporate social cultures in a single space. YUNITY Park is a natural response to the collective aspiration for work-life balance, bringing nature back into the urban space and experiencing a healthy and sustainable way of life", said Liviu Tudor, founder of Genesis Property and president of the European Property Federation.
In YUNITY Park, the outdoor parking area, which will be transformed into a completely redeveloped green area with a futuristic design, covers a total area of 7,500 square meters. The space will include a cutting-edge amphitheater dedicated to outdoor events, with a seating capacity of 220 in the bleachers alone, as well as a 1,000-square-meter urban forest where employees will be able to hold business meetings. During the warm season, YUNITY Park will provide residents with a vibrant and versatile outdoor terrace serving a 4,000 square-foot food hall and numerous areas for professional interaction and informal socializing.
Indoor, the YUNITY Park project includes co-working and co-living spaces, an ultra-modern conference center with a total capacity of 540 seats, a 190-seat café-restaurant, as well as entertainment, fitness and specially designed areas for socializing and relaxing. At the same time, YUNITY Park's building entrances and common interior spaces such as the receptions and elevator areas will be completely transformed with a modern design and completed with new areas for interaction outside the offices.

The YUNITY Park project is part of Genesis Property's sustainability strategy, aligned with the 10 principles of the United Nations Global Compact on Human Rights, Labor and the Environment and the 17 UN Sustainable Development Goals. As a result, the park will be developed and operated so as to contribute to both significant environment improvement and an enhanced quality of life for the entire Genesis Property community, now and for future generations, aligned with the company's commitment to achieve net-zero carbon emissions by 2040 through reuse, investment in renewable energy production and sustainable building management.
At the same time, all seven buildings in YUNITY Park, with a leasable area of 75,000 square meters, including co-living and food hall areas, which are already classified as energy efficiency class A and certified BREEAM – Very Good, will also be certified IMMUNE Building Standard™ – Resilient, 5 out of 5 stars. The IMMUNE™ Standard recommends an investment in a Healthy by Design system, consisting of a network of specialized devices, technologies and equipment implemented both in the building and in emergency spaces (quarantine and isolation room, emergency warehouse). The mission of the Healthy by Design system is to promote, with the help of specialized staff, the implementation of operational and health rules in the built environment.