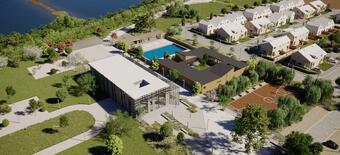 Liebrecht & wooD, one of the largest real estate developers in Europe, announces the launch of the Liziera de Lac residential project, while proposing life in the middle of nature and avant-garde urban facilities.
The first phase of the project includes 94 houses, with areas between 77 and 127 usable square meters, and the starting price of the houses starts from 106,400 euros without VAT.
"For us it is more than a residential development. It is a sustainable urban planning project for over 13,000 people and 4400 housing units within 10 years. We have approved a Zonal Urban Plan (PUZ) for 440 housing units, and in the first phase of development the first 94 homes will be delivered together with a complete series of facilities adapted to the contemporary lifestyle", says Sorin Ioan Blaga, General Manager Liebrecht & wooD Romania. "The project takes into account all aspects of housing, every detail has been carefully planned - from how many parking spaces are needed, to how many leisure facilities, to how many educational facilities, to transportation and an intelligent property management system", he adds.
The construction of the Liziera de Lac project started two years ago, with the 5 km access road that connects the road junction on the A2 motorway from Cernica de Frumușani, built by Liebrecht & wooD to county road standards. Access to Bucharest is quick, Liziera de Lac being only 15 minutes from Anghel Saligny metro station and Pallady shopping area. At the same time, in addition to the available public transport, the developer will provide the tenants with Liziera de Lac minibuses.
The residential complex will have a kindergarten, sports complex with swimming pool and basketball and tennis courts, areas for sports activities, relaxation and leisure, a Community Hub with space for co-working, telework and meetings, restaurant and cafe, shopping, pharmacy and first aid area, petshop, bike lanes, promenade around the lake, individual and common parking lots, permanent security and electric car charging stations.
Liziera de Lac is a project with a sustainable development that is based on environmentally friendly solutions: 52% of the complex is reserved for green areas, there will be over 10 ha of parks, 12 ha solar panels for the whole project, independent irrigation system, dual wastewater collection system, own water treatment plants, regulations banning the use of pesticides. Air quality will always be closely monitored and for this, Liziera de Lac will have tools for permanent air testing.
In addition, the Liziera de Lac project has two environmental conservation objectives. The first is related to the arrangement and conservation of Lake Tataru, and the second focuses on the arrangement of a natural park that will preserve 13 ha of forest in the vicinity of the project.
Prospective buyers will be able to choose from 7 types of courtyard houses, with areas between 77 and 127 square meters. Home sales in Lake Liziera will begin in March 2021, and the first residents will be able to move in the fourth quarter of 2021.