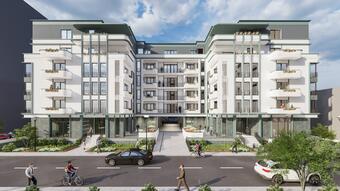 My Place Residence is located in the northern part of Bucharest, between the entrance bridge in Pipera and the roundabout in Pipera and brings together all the facilities in a single residential complex.
My Place has 87 apartments and penthouses with areas between 65 sqm and 200 sqm. All apartments have balconies and the penthouses have generous terraces above the building.
"At a time when the safe movement of employees to work, the location of our project near the largest office hub in Romania gives it a significant competitive advantage in a market where most new investments are located in neighborhoods with more difficult access to the office areas that have already taken shape in Bucharest ", says Costel Niculae, CEO of My Place.
The project is meant to offer future tenants five-star hotel conditions, through the chosen finishes and facilities, as well as through the multiple amenities offered, from the pool to the fitness room and children's playground, from the mall to the spa area and relaxation.
All apartments have spacious balconies, and the penthouses have large terraces on the roof of the building. The homes have an above average height and generous glazed surfaces, and the master bedrooms have their own bathroom. Among the finishes to be mentioned would be the imported ceramic tiles (Marazzi brand), the triple layered solid wood flooring, the sanitary ware and the high quality accessories, the metal doors (at the entrance to the apartments) with a multi-point locking system, etc.
"Construction of the project has begun, as well as demands for apartments in My Place. We aim to complete the construction in 2021 and given that the whole concept was very well received by a small circle of acquaintances, just before we officially launched it, we hope and believe that we will be able to sell all 87 apartments before delivery. We have the advantage of coming to the market with a product that offers the best conditions to feel at home ", says Raluca Niculae, Business Development Manager My Place.
The project is provided with two elevators for each staircase, storage boxes, space for bicycles, space for strollers, generator for emergency situations, water tank and pumping group, civil defense shelter in the basement. In terms of facilities, it should be mentioned the 130 parking spaces, of which 103 are underground, but also the green spaces and the playground for children arranged within the complex. To these are added the proximity of two metro stations - Aurel Vlaicu and Pipera -, but also of several retail facilities.