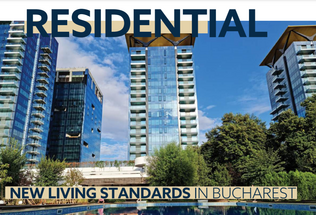 Premier Estate Management, one of the most reputed residential advisory companies, explains for BUCHAREST REAL ESTATE CLUB the main trends that will define the market in the next period:
Larger living spaces and a clear preference for units with their own big terrace, yard or green area. Buyers also tend to look for more space dedicated to working, such as an extra room to be converted in office space. Larger living spaces mean a growth in living quality but also significantly bigger average price of transactions.
Transactions take longer, as data shows that we face a delay in the buyers' decision taking process. If the average transaction used to take about 65 days to happen, nowadays it is not rare to see buyers looking for a home for 6 months and properties with a correct price positioning to be sold in more than 100 days. More time spent in the market also means more marketing spending for owners, brokers and developers.
Some see opportunity in uncertainty, but no major price change is expected for the next 6 to 12 months. The Romanian residential market was structurally healthy before the crisis with one figure price increased in strong correlation with the demand and the offer. With a median price of 1.355 EUR/sqm and 1.376 EUR/sqm for the new segment, residential prices did not follow the same rapid evolution of the Romanians' revenues.
Once the emotional effect and the fatigue of the current sanitary crisis will pass, prices are expected to return on a growth path. The market will face changes. Part of the current trends are here to stay, as a mix between office work and teleworking will become a routine, buyers will look for more space, green will be praised more and buyers will be ready to pay more for a better standard of living. (source: Bucharest Real Estate Club)