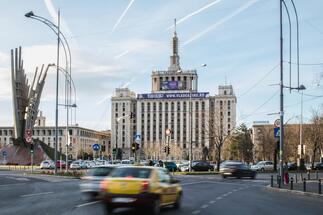 In addition, over 9,000 new apartments and villas are under different development stages, with delivery dates announced for 2021, according to SVN Romania's data. The new level of deliveries estimated for 2020 will translate into an approximately 8% increase to 2019's result, a year which set new records also on the local residential market.
8.528 new dwellings were delivered in Bucharest and Ilfov county in the first six months from 2020, up 32% compared to H1 2019 according to the National Institute of Statistics, the first half from 2020 being the best in recent years.
"COVID-19 pandemic has, for now, a limited effect on the residential deliveries from Bucharest. Absorption rates of newly delivered projects remained high, the vast majority of the units being pre-contracted from 2019. The new offer could decrease in 2021, also after two years of absolute record in terms of deliveries, while the competition will intensify. Developers must draw up their plans in the best possible way in order to register the expected results. 2021 will be a year with numerous challenges", stated Andrei Sarbu, CEO of real estate consultant SVN Romania.
Absorption rates of newly delivered units from Bucharest and its surroundings remained high, of over 75% in general until delivery. This results we're registered also in a context in which the accessibility of purchasing a new apartment in Bucharest reached its best level in the modern history, according to the index calculated by SVN Romania.
Thus, in August 2020 (last month with official data regarding the medium wage) were necessary, for the first time in history, less than 100 medium wages at a national level (EUR 677) or a period of 8.3 years for purchasing a new one-bedroom apartment (50 square meters net surface, 1,350 €/sq.m.) in Bucharest.
At the beginning of 2020 were necessary 104 medium wages (EUR 668) for purchasing the same apartment (1,390 €/sq.m) or a period of 8.67 years while at the beginning of 2018 were necessary 117 medium wages. At the peak of the market from 2008 were necessary no less than 393 medium wages for purchasing a new one-bedroom apartment in Bucharest or a period of 33 years, according to SVN's calculations.
The good absorption results from 2020 were also obtained in a context of better adaptability of the offer to the existing demand. Thus, the mass market segments, characterized by projects located within the large neighbourhoods or at the outskirts of the city, regained the majority on the market, with a 55.5% share. The increase from a 48% share in 2019 was registered mainly due to a multitude of new projects developed in areas such as Militari – West, Berceni – South and Th. Pallady – East.
Middle market segmented has a market share of 42% from the new offer, although the number of units targeting this segment increased slightly compared to 2020. The middle market development continued in 2020, due to the completion of projects located in semi-central or northern areas from the city or in the vicinity of office poles, such as Aviatiei, Grozavesti – Politehnica or Expozitiei.
Premium and luxury segment registered also new records in 2020, with almost 500 new units delivered. SVN Romania's calculation show that the profile segment attracts a total volume of transactions of over EUR 250 million annualy.
At a national level, Cluj – Napoca, Timisoara, Brasov, Constanta, Sibiu and Iasi registered the best results, while smaller residential regional markets, such as Oradea, Pitesti or Craiova benefited also from the effervescence recorded on the residential market.
Approximated 381,600 real estate transactions were registered at a national level in the first nine months from 2020, down only 0.3% compared to the same period from 2019, according to official data from the National Agency of Cadastre and Real Estate Advertising.
SVN Romania is one of the biggest local real estate consultants. The company has also two regional offices, in Brasov and Cluj – Napoca and is one of the main players on the property management segment through SVN Romania | Property Management & REO Services and on the financing segment, through (SVN Romania | Credit & Financial Solutions. SVN International Corp. has over 200 offices in eight countries and regions, with over 1,600 consultants and staff. (source: SVN Romania)