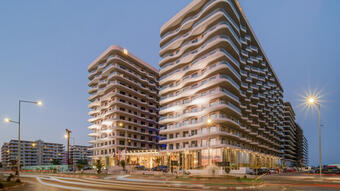 Located in the northern part of the resort, Nordis Mamaia is a unique real estate development in Romania, a mix between residential and hotel segment, complete with relaxation areas and facilities that confirm the standard of a 5 star hotel: indoor and outdoor pools, spa 3,200 sqm, 12 restaurants and cafes, cinema, multipurpose room, commercial gallery with premium brands, playground for children, medical recovery center, private beach of 26,000 square meters.
Starting in July this year, Nordis investors will become the owners of their investment and will receive all the guaranteed benefits. In compliance with the contractually agreed policy, the company will pay a monthly income to each owner who has invested in a hotel room or apartment. According to the guaranteed 7% annual return, the rents that investors will receive can exceed 1000 euros.
At the same time, Nordis Group is developing the second stage of the Nordis Mamaia ensemble, located right next to the 4 bodies already built at sea. The second stage includes over 1160 residential apartments and numerous 5-star services and facilities: outdoor swimming pools, multipurpose room with over 1000 seats, medical recovery center, VIP casino, commercial spaces
The Nordis Mamaia ensemble complies with the GREEN Homes norms, currently having pre-certification from Romania Green Building Council, which certifies the implementation of sustainable measures and solutions to achieve a higher level of energy efficiency.