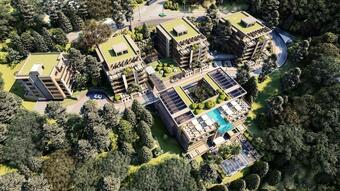 The five-star Nordis Brasov ensemble will be developed on a plot of 13,000 square meters and will consist of five independent buildings, built with a low height regime. It will have 158 hotel rooms and 43 residential apartments, SPA and infinity pool. The price for the purchase of a hotel room in the complex starts from 83,000 euros, and for a holiday apartment from 217,000 euros.
"Nordis Brasov is a novelty on the local market and raises the standards of housing and tourism in the area to the international level. In everything we designed in Brasov the emphasis is on quality of life, whether this means location in nature, away from pollution or special attention paid to the design and architecture of the construction. We have already obtained the building permit, and this spring we will start the works. Our major objective is to offer premium products and services, as we can find in other countries", said Daniel Penciuc, managing partner of Nordis Brasov.
The complex offers investors the opportunity to buy a hotel room with a guaranteed yield of 7% per year, as in other Nordis projects in Mamaia or Sinaia. Subsequently, Nordis Group leases the properties, offering investors a monthly lease contractually established for 30 years.
Both the residential and the hotel area will have other extensive facilities, such as traditional and fine-dining restaurants, elegant lobby, children's playground, fitness room, cinema room, and for corporate events, the ensemble has 3 conference rooms.