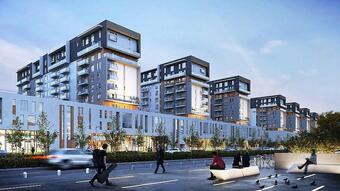 Planned to be developed in 2 phases, the project will consist of 5 residential buildings, a kindergarden and commercial spaces, with a total value of the new project estimated to be around 65 mil. Eur.
"It took us a record time of only 3 weeks to close this transaction, but more than 3 years to get to know the needs and business models of both our partners, Novum and Amcorp, whom we brought together to make this happen. The area of the project has great potential being in a semicentral location, with a metro station and Carol Park at only a short walking distance. Taking into consideration also the good timing (high demand for residential and the project, plus a building permit already in place), and the vast experience of the developer who already developed more than 2.300 units, we are sure that this part of the city will become a desirable address", said Ionuț Stan, Associate Director, Land Development, Crosspoint Real Estate.
This was a plot that was considered by many developers, both local and international. "We are proud to have been the sole advisor on this landmark deal for the area, of around 45.000 sqm totaling around 65 million Euros in value. We see an ever greater competitive edge of the Romanian capital in the market., but we think the synergy between Amcorp and Novum was evident and the latter was the best option the land owner could have chosen. We did a number of deals with Novum so far, and we can say that they are one of the most competitive residential developers on the market", Cătălin Gavrilă concludes about the deal, Partner, Land Development, Crosspoint Real Estate.
Ionuț and Cătălin represent the land department of Crosspoint and brokered toghether this year transactions with a total value of 52.5 million euros. They have in pipeline land transactions in Bucharest, Iași, Constanța & Brașov with a value of over 55 million euros, that can be closed until the end of 2021.
Novum Business Invest is a successful real estate developer, with 10 years of experience on the Romanian market. Their supply of new dwellings is diverse, starting from studios to detached apartments with 2, 3, 4 rooms and duplexes, in different areas of Bucharest. The residential projects in the Novum Business Invest portfolio are addressed to both those who want to live in business areas of Bucharest, and to those who want to live far from the crowded city centre.