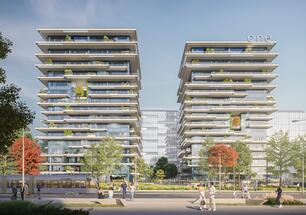 "One Floreasca Towers benefits from the unique positioning, in one of the most exclusive and unique neighbourhoods, in the heart of Bucharest's most important business district, with immediate access to numerous facilities, malls, as well as to subway connection. The success we had with similar developments located in neighbouring areas, such as One Verdi Park and One Herăstrău Towers, gives us premises for yet another highly desirable residential development", said Beatrice Dumitrașcu, CEO of the Residential Division at One United Properties.
One Floreasca Towers will consist of two high-rise towers of 14 floors each, situated on a 5,600 sqm plot of land on Gara Herăstrău Street. The development has a Gross Building Area of over 35,000 sqm. Among the other facilities specially designed for this development and four commercial spaces, the residential ensemble will also benefit from two underground parking levels, with 254 parking places.
At One Floreasca Towers, the clients have access to various residential units, from studios of 50 sqm, one-bedroom apartments of approximately 60 sqm, two-bedroom apartments ranging from 87 to 107 sqm, and three-bedroom between 130 and 269 sqm. The highlight of the development will be the limited collection of exclusive penthouses with high ceiling and floor-to-ceiling windows, having great panoramic views to Floreasca Lake. The purchase options for these apartments include five equal instalments of 20% paid over the construction time of the development, and a discounted option with 100% pre-payment.
One Floreasca Towers is located across from the Promenada Mall, offering quick access to the Herăstrău Park, Floreasca and Dorobanți quarters, One Gallery commercial centre within One Floreasca City, as well as to multiple points of interest in the city - commercial services and leisure activities, restaurants, cafes, gyms. Moreover, One Floreasca Towers will benefit from subway access in immediate proximity.
ONE UNITED PROPERTIES is the leading green investor and developer of residential, mixed-use and commercial real estate in Bucharest, Romania. One United Properties is an innovative company
dedicated to accelerating the adoption of construction practices for energy-efficient, sustainable, and healthy buildings. All the company's buildings have superior certifications for sustainability, energy efficiency and wellness, and the developer has been awarded at numerous galas and conferences in the field. One United Properties is the first real estate developer in Romania to be internationally awarded, being the recipient of the "Best Sustainable Residential Development" in the world at the International Property Awards 2019-2020. The company is listed on the Main Market of the Bucharest Stock Exchange, with the symbol ONE and its shares are included in multiple BET and STOXX indices, the FTSE Russell Global All-Cap index, which follows the most liquid shares in the world, and the FTSE EPRA Nareit EMEA Emerging index, which tracks the evolution of companies in the real estate sector in emerging markets.