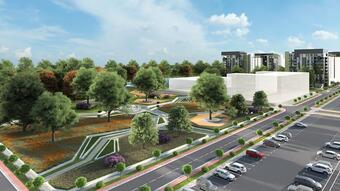 ·Ateneo Timisoara will include 1,300 apartments and a vast list of amenities and facilities, being thus the largest residential project under development in Timisoara. First phase will include 153 apartments in three buildings and will be delivered in 2021
·The project will be the first integrated residential project from Timisoara. It will include a LIDL supermarket, which will be constructed by the end of 2020, while the entire project will have nine sport fields, a commercial centre and spaces for up to 120 shops of different sizes, a 16,000 square meters park, a kindergarten, numerous playgrounds for children and the entire general infrastructure specific to a project of this size
·The project is being developed by FRI-EL Buildings, part of Italian group FRI-EL Green Power, one of the largest energy producers in Italy, with an annual capacity of over 1 GW. The group registered in 2019 revenues of 226.5 million Euros and a net profit of 62.3 million Euros
FRI-EL Buildings, part of Italian group FRI-EL Green Power, one of the largest renewable energy producers from Italy, will invest over 80 million Euros in developing Ateneo Timisoara, the biggest residential project under development in the western part of Romania, projected with 1.300 apartments and a vast list of amenities and facilities.
Ateneo Timisoara is located in Torontalului area, one of the most dynamic developing areas in the city, close to the Agronomy and Veterinary Medicine University and at approximately one kilometre from the future IKEA Timisoara store. The first phase of the project will include 153 apartments in three buildings, after an investment of approximately 10 million Euros – exclusively company equity. Construction works are being undertaken at the 5th floor of the first two buildings, set to be delivered in the spring of 2021, while the third building will be delivered by the end of next year.
"We chose Timisoara because it is one the main economic pillars of Romania and the most important urban centre from the West of the country. We found here a residential market in full development stage and a real demand for smart partitioned apartments, at competitive prices but, more important, for apartments part of integrated projects, with multiple facilities specific to a new lifestyle. We started the development of Ateneo Timisoara at the end of 2019 and we haven't slowed down during the last three months, having full confidence in the local residential market. The entire development of Ateneo will last for many years ahead and we are also looking at new investment opportunities", stated Luca Cainelli, CEO FRI-EL Buildings Romania.
Ateneo Timisoara will include the largest list of amenities and facilities that will be made available to residents of a residential complex in the Western part of the country. First, a LIDL supermarket with 2,500 square meters, will be constructed by the end of 2020, ahead of the first blocks of flats from phase one.
Subsequently, nine sport fields will be arranged, a kindergarten, a commercial centre but also several commercial spaces at the ground floors of the buildings which will host up to 120 shops of different sizes, a 16,000 square meters park and the entire general infrastructure specific for a project of this sizes, from roads and pathways to green areas. First two buildings from phase one, with 102 apartments, will include 104 underground parking spaces and also 110 outside parking spaces.
The project's developer, FRI-EL Buildings, is part of Italian group FRI-EL Green Power S.p.A., one of the largest energy producers in Italy, with an overall capacity of over 1 GW. The group owns 28 wind farms only in Italy, with a total production capacity of 950.55 MW, representing 9% of the total wind electricity capacity in Italy. Moreover, the company will develop in the future new wind plants, with an overall capacity of 100 MW. The group also owns 24 biogas plants and 21 hydroelectric power plants.
The group registered in 2019 revenues of 226.5 million Euros and a net profit of 62.3 million Euros.