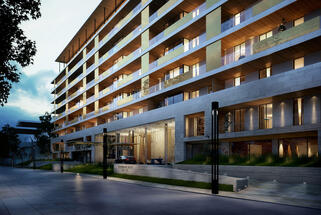 One United Properties announces that the company is taking over one of the most exclusive residential projects on the Bucharest real estate market and rebranding it under the name One Rahmaninov. The super-premium apartment complex located near Verdi Park and delivered this year as Rahmaninov Residence is now part of One United Properties management and portfolio.
One Rahmaninov offers exclusive apartments overlooking Verdi Park and Lake Floreasca in a desirable area of Bucharest, with quick access to many facilities. The complex consists of 86 luxury residential units, of which 50% have already been sold. The rest of the available apartments will be managed by One United Properties and will benefit from exceptional interior design and finishes made by Lemon Interior Design. The sale of the 41 apartments and 2 penthouses currently available, whose cumulative value amounts to approximately EUR 50 million, will be made exclusively through the company Skia Real Estate, a subsidiary of One United Properties.
"Our company is taking over the management and sales for this new residential project. Once included in the One United Properties portfolio, it joins our super-premium projects, located in exclusive areas of Bucharest, such as One Charles de Gaulle, One Verdi Park or One Mircea Eliade. We are talking about an exclusive residential complex, developed according to a concept we believe in. Our company's extensive experience in the high-end residential segment will most sure add value to the project. At the moment, One Rahmaninov still has available about half of the 2, 3 and 4 room apartments, as well as 2 penthouses, and all will benefit from an elegant and spectacular contemporary design offered by Lemon Interior Design", says Beatrice Dumitrașcu, VP Residential Division One United Properties.
One Rahmaninov covers a built area of 23,000 square meters, with Gf + 8 floors and 3 entries. It is the only residential complex in the country with a 600 square meters and 6 meters high lobby. At the same time, the complex includes a playground for children and a very generous parking lot, with 200 parking spaces for all apartments.
One United Properties, founded by Victor Căpitanu and Andrei Diaconescu, takes over this new residential project from Dorin Mateiu, businessman and the former owner of Elit Cugir, one of the most important companies on the meat and sausage market in Romania. After selling the business to the American colossus Smithfield Foods in 2018, Dorin Mateiu reoriented his investments towards real estate. His portfolio includes Rahmaninov Residence, the headquarters of First Bank in Victoriei Square (former Piraeus Bank), and a series of other residential and office properties located in central areas of Bucharest. (source: One United Properties)