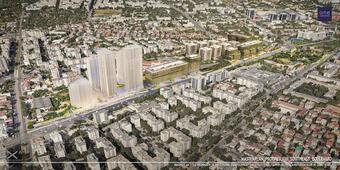 "We are thrilled to announce One Cotroceni Towers, our newest development, and the expansion of One United Properties' urban regeneration efforts in the Cotroceni area. The excellent sales at One Cotroceni Park, where 92% of units were sold within the first year since the sales kick-off, proved the important opportunity that One United Properties has in expanding ONE high-end brand into larger scale medium to medium-high income developments. In addition, we see continued demand for mixed-use developments in the Cotroceni area, making it a very important neighbourhood for our future investments", said Victor Căpitanu, co-CEO of One United Properties.
With a Gross Development Value (GDV) estimated in the range of 400 million euros, One Cotroceni Towers will be an important mixed-use development and a landmark example of urban regeneration that will increase the attractivity of living, working, and spending leisure time in the city of Bucharest. The residential component will accommodate 1,296 units spread over five towers. Two towers will have 33 floors, thus becoming the tallest residential development in Bucharest and the region. The other two towers will have 23 floors, while one building will have 16 floors. The residential towers will be connected at the ground floor and first floor levels, and will have commercial spaces for a variety of services, like gym with pool, food markets, restaurants, afterschool for kids, and other typical services that will reduce the commute time of the residents, and first-floor of smaller office spaces, available for sale. All car circulations will be done strictly via the three underground floors. Additionally, the mixed-use development will also include a stand-alone office building with a Gross Leasable Area (GLA) of approximately 48,000 sqm, which will be named One Cotroceni Park Offices Phase III, continuing the success story of the first two phases which have a joint GLA of 81,000 sqm. This building will be built for rental and will thus increase the recurring revenue of the company from office space rental.
At One Cotroceni Towers, the clients have access to various residential units, including two- three- and four-bedroom apartments, as well as the tallest penthouses in Bucharest, located at the highest residential floor, and one of the highest altitude points in the city. The purchase options for the apartments include five equal instalments of 20% paid over the construction period, a 30% down payment upon signing the contract and 70% on delivery, or a discounted option for 100% pre-payment. The construction works are estimated to begin in March 2023. The mixed-use development will be delivered in three phases, with the final completion date being estimated for 2027. The property already has a legal and valid building permit in place, which will allow for rapid time to market.
Built on an almost 5-hectares plot of land, and with Gross Buildable Area of over 282,000 sqm, One Cotroceni Towers will be the extension of the urban regeneration development of One Cotroceni Park. Consequently, the residents and tenants will have walking distance access to a vast array of facilities and services for the community, spread over the entire neighbourhood of approximately 11 hectares. Moreover, the location benefits from direct access to the subway.
Sustainability of the new development is a priority. Therefore, One Cotroceni Towers will implement sustainable energy efficiency solutions, a geo-exchange system that is among the most energy-efficient solutions, environmentally clean, and cost-effective air conditioning systems, which will significantly reduce the costs for heating and cooling spaces for the tenants and residents. Furthermore, One Cotroceni Park Phase 3 offices will be designed to access the latest green and WELL certifications, attesting sustainable operation and minimal environmental impact.
After full delivery, One Cotroceni will become a Bucharest landmark, with a brand new, modern neighbourhood that will include almost 2,200 apartment units, over 40,000 sqm of commercial spaces and small offices, and almost 140,000 sqm of leasable office spaces, as well as 4,200 underground parking spots.
The value of the transaction is 35 million euros.