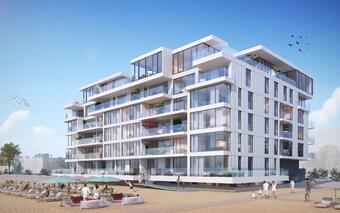 On the newly acquired lands, the developer will be able to increase the offer of boutique apartments from the Neo Mamaia brand, with a low height regime, with over 200 apartments. Thus extended, the Neo Mamaia ensemble will be outlined as an exclusive residential complex, with contemporary design apartments and panoramic views of the Black Sea. The complex is the first residential development in Mamaia that has fully underground parking. At the same time, the beach in this area of Mamaia resort was widened by another 40 meters, intended for tourists, within the extensive project to stop coastal erosion implemented with European funds.
Currently, the developer has completed the first phase of the Neo Mamaia complex on an area of 2,348 square meters, whose construction began in the fall of 2018, and it is already pre-contracted in proportion of over 90%. Surrounded by beaches and restaurants, located in the most sought after holiday and entertainment area of the resort, with direct access to the private beach, the building offers 50 apartments divided on two stairs and a generous underground parking. Most of the façade is ventilated, but, exceptionally, the sea-facing façade is a glass curtain wall specially designed to attenuate noise and radiation. The apartments have front or side sea views and a clear height in rooms of about 3 meters. , premium finishes, natural stone and glass closures on terraces, security and permanent video surveillance.
Generous atrium of about 400 sqm, spectacular reception with design signed by Lemon Interior Design, laundry and cleaning services offered by a professional concierge, but also high level of privacy offered by the way Neo Mamaia was designed, all give an extra security of the quality offered.
Neo is a division of One United Properties launched in the second half of 2018 and dedicated to exclusive residential projects of boutique type, made to the same top standards practiced by the developer. Currently, in Neo's portfolio, in addition to Neo Mamaia, there are Neo Timpuri Noi, estimated for delivery in Q2 2021, Neo Floreasca Lake, estimated for completion in 2022, but also Neo Herăstrău Park, whose construction works will start next year.
The shareholders of Neo Properties Development are divided between Octavian Avramoiu who coordinates the daily activity of the company (15%) and One United Properties (85%). (Source: One United Properties)