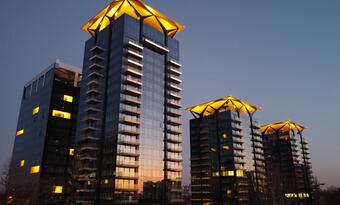 The internationally awarded developer is well-known for its sustainable real estate projects and at the moment is considering listing on the Bucharest Stock Exchange through an initial public offering (IPO). The intermediary of the offer is BRK Financial Group, while Swiss Capital will be part of the distribution group.
One United Properties was founded by Victor Căpitanu and Andrei Diaconescu, who currently own 75% of the company's shares and are the only executive members of the board of directors, while the rest of the other five members are non-executive. The two founders will continue to lead the company after its listing at the Bucharest Stock Exchange. "Since the very first projects developed under the brand One, we have set out to continuously innovate in the construction of energy-efficient and sustainable buildings and we have focused our efforts on redefining the concept of urban living to Western standards. Our plans to grow the company continue through the contemplated listing on the stock exchange, which will bring our company on a next level along our long-term strategy, diversify the options available for accessing capital for our innovative real estate projects, allow a new category of investors to join us, and increase liquidity for the company's shareholders", says Victor Căpitanu, co-founder of One United Properties.
The two founders have invested in real estate since 2000 and developed the first residential building in 2006 and starting with 2013 they have expanded real estate projects under the brand One, turning it into the leader of the high-end residential market in Romania, with multiple awards for architecture, design, development, but also for sustainability.
The company had a rapid growth and turned into a profitable business, while becoming the author of landmark real estate projects on the Romanian market. Among them is One Floreasca City, an internationally awarded project at the International Property Awards 2019-2020 for "Best Sustainable Residential Development". The mixed-use project was designed from the very first beginning as a landmark architectural project, an expression of contemporary vision, sustainability, and community integration, with an increased focus on services and facilities for the residents. One Cotroceni Park is the most ambitious urban regeneration project currently under development in Bucharest, with a mixed function, developed under the holistic Live / Work / Play approach. Another premiere is One Peninsula project, which the company is developing in Floreasca neighbourhood and which is the only
residential club in Bucharest with a geothermal heat pump system. Other flagship projects developed by One United Properties are One Herăstrău Park, One Charles de Gaulle, One Herăstrău Plaza, One Verdi Park, and One Herăstrău Towers.
All One United Properties residential projects are "Green Homes" certified by the Romania Green Building Council, and the company's entire office portfolio is in the process of being WELL Health and Safety certified, the most rigorous certification focused on employee wellbeing.
ONE UNITED PROPERTIES is one of the leading green developers of residential, mixed use and office real estate, in Bucharest, Romania. One United Properties is an innovative company dedicated to accelerating the adoption of construction practices for energy- efficient, sustainable, and healthy buildings. All the company's buildings have superior certifications for sustainability, energy efficiency and wellness, and the developer has been awarded at numerous galas and conferences in the field. One United Properties is the first real estate developer in Romania to be internationally awarded, being the recipient of the "Best Sustainable Residential Development" in the world at International Property Awards 2019-2020. (source: One United Properties)