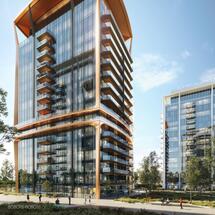 One Lake Club is an exclusive residential development, which brings forward a unique real estate concept on the current Bucharest market: 7 tall towers located right on the shore of the lake, which will offer future residents spectacular views, reshaping the urban lifestyle close to nature.
"Enjoying an exceptional location, right on the shore of Lake Tei, One Lake Club is part of the large-scale developments we set out to deliver and, at the same time, confirms the company's objective to to revitalize high-potential locations in Bucharest and to create real communities. This development is one of the largest urban regenerations in the city, a development that will integrate residential towers with modern apartments and commercial and leisure facilities. The comfort of home will be well defined at One Lake Club through the spacious apartments, unique lake views, sustainable building principles, innovative design, as well as many integrated services for One community", says Beatrice Dumitrașcu, CEO Residential Division One United Properties.
One Lake Club will offer a total of 663 apartments, both studios and one-, two-, three- or four-bedroom apartments. In addition, the development also offers an exclusive collection of elegant apartments with private gardens and spacious penthouses with high ceilings, floor-to-ceiling windows and spectacular panoramic views of the lake, park, and city. 10 commercial spaces and a total of 853 parking spaces will complete the development. Future residents will have access to integrated facilities such as shopping areas, swimming pool, spa, gym, or brasserie. One Lake Club has a gross building area of approximately 75,260 sqm. The options to access the residential units are either 100% advance payment, or 5 equal instalments of 20% or 2 instalments of 30% and 70% on delivery.
One Lake Club will benefit from sustainable energy efficiency solutions, a geoexchange system that is among the most energy-efficient solutions, environmentally clean, and cost-effective space conditioning systems available, which significantly reduces the costs for heating and cooling spaces.
Located right on Lake Tei shores, One Lake Club enjoys an excellent position on the city map, with quick access to Barbu Văcărescu Blvd., public transportation, One Gallery shopping area at One Floreasca City, as well as Otopeni Airport and the A3 Bucharest-Ploiești highway. There is also a wide range of restaurants, hotels, shopping galleries, and office buildings in the area.