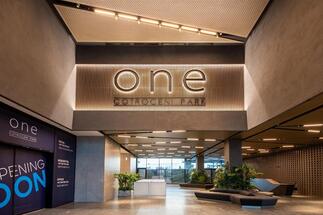 The gross profit increased almost fourfold in Q1 2022 compared to Q1 2021, reaching 42 million euro, while the bottom line surged 314%, amounting to 33.6 million euro. Due to the solid results in the first quarter, the cash position increased 11% since the beginning of the year, to 114.5 million euro, on a loan-to-value ratio 25%.
"Romanian real estate market continued its strong performance well into 2022, and we see a growing demand for our developments. The rising inflation and negative real interest rates on deposits drive savings into real estate, despite the current geopolitical context. In this effervescent market, One United Properties maintains its leading position as we close the first quarter of 2022 with historical results both in terms of the top line as well as the bottom line. The net margin from residential sales appreciated 17 percentage points compared to Q1 2021 due to strong cost-control based on secured contracts and an established forward buying policy, while our recurring rental income registered an 11-fold increase in the context of growing office and retail division. As Bucharest continues to show extraordinary development potential, we continue building a strong pipeline for our future landmark developments," said Victor Capitanu, co-CEO at One United Properties.
The doubling of the turnover was driven by a 17% increase in the revenues from the development and sales of residential property, which reached 39.9 million euro in Q1 2022. The net income from residential sales amounted to 16.9 million euro, generating a 42.5% margin, 17 percentage points appreciation compared to Q1 2021. In the first three months of 2022, One United Properties sold and pre-sold 120 apartments with a total surface of 9,811 sqm, 129 parking spaces and 10 commercial spaces and other units for 28.6 million euro.
The rental income, which includes the revenue generated by the office as well as retail divisions, registered a significant, elevenfold increase, reaching 1.3 million euro. The effect has been driven by the revenues from tenants at One Tower, which was leased out at 91% as of March 31st, 2022, and One Cotroceni Park Phase 1, leased out at 78% as of March 31st, 2022, however the latter not yet generating full income since most tenants are still in the fit out phase. Moreover, as of 2022, One United Properties consolidated results also include the performance of Bucur Obor, an emblematic shopping center in Bucharest with a gross leasable area of 26,000 sqm, where the Group holds a majority stake. The management estimates that the revenues from rental income will grow quarter-on-quarter, bringing more significant weight to the total turnover throughout 2022.
"2022 brings diversification to One United Properties as we continue to develop our office and retail divisions, both of which brought notable returns in the first three months of the year and will continue to grow throughout the year. In parallel, we continue our focus on expanding the ONE high-end brand into larger-scale medium to medium-high income developments. The sustained, excellent sales results of One Cotroceni Park set good premises for similar developments such as One Lake District and One High District, where we will kick off the construction this year. Our solid performance directly results from our strong business model, based on a superior quality product, and never compromising on what and how we develop, always striving to deliver the best product on the market," said Andrei Diaconescu, co-CEO of One United Properties.
As of March 31st, 2022, One United Properties had 173,000 sqm of land plots for further residential development under permitting and in the planning phase, most with an estimated start of construction in 2022, in Bucharest and Constanta (Mamaia). The Group estimates the construction of more than 4,200 apartments and commercial spaces on these land plots. Moreover, besides the owned landbank, the company has a strong pipeline of new plots of land for further development.
One United Properties is currently in advanced negotiations for 10 future developments as well as it is in early discussion or negotiation stages for more than 20 other developments. The 10 developments currently in advanced negotiations are primarily focused on medium and medium-high income residential properties, the segment where the Group has registered excellent performance with sales of One Cotroceni Park. If signed, approximately 10,000 apartments with more than 1 million square meters above ground of a gross buildable area would be developed on these lands by the company over the next seven years. After they are developed, these developments could generate a gross development value of more than 2.3 billion euro and a potential gross profit for One United Properties of 900 million euro.
In the coming period, One United Properties will carry out the share capital increase operation with cash contributions, approved in the General Meeting of Shareholders held on April 26th, 2022. The capital raised during the share capital increase will be invested with priority in new developments, according to the existing pipeline of the company, while the current cash position will be used to accelerate the delivery of the ongoing developments. The planned capital increase will be the fifth for the company, which, since July 2021, has been listed on the Main Market of the Bucharest Stock Exchange after having successfully raised 52.8 million euro in an IPO.
In Q1 2022, ONE shares were consistently amongst the most traded financial instruments on the Bucharest Stock Exchange. The average daily traded value for ONE shares between January 1st and March 31st, 2022, was 0.3 million euro. In a volatile first quarter of 2022, ONE shares outperformed the benchmark index BET, delivering a +3.86% share price appreciation vs a -2.92% decline of the BET index. Only five blue chips, including ONE, registered a positive evolution in this period.