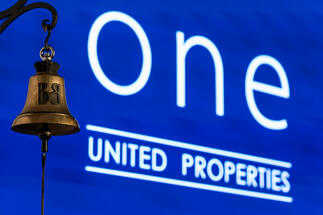 "We closed the third quarter of 2021 with record residential sales and an exceptional cash position of over 604 million lei. The net margin from residential sales reached 38% in Q3 2021, a significant increase compared to 32% registered for the first half of the year, while our loan to value ratio decreased by 7 percentage points, down to 23% as of September 30th, 2021. Our office division continues growing strong as we reached an 84% lease threshold for One Tower and 75% for the first phase of One Cotroceni Park, which will be delivered next month. One United Properties has been thriving this year, and the boost we got from our IPO is setting excellent premises for a solid last quarter of the year and a continued, strong performance for the years to come," said Victor Capitanu, co-founder of One United Properties.
Revenues from the residential segment reached RON 521.9 million in the first nine months of 2021, a 57% increase compared to the same period of last year. In the first three quarters of 2021, One United Properties sold and pre-sold 569 apartments with a total surface of 50,873 sqm, 721 parking spaces and 42 commercial spaces and other units for a total of EUR 153 million. In the same period of 2020, the Group sold 125 apartments, with a total surface of 20,677 sqm, 147 parking spaces and 4 commercial spaces and other units for a total of EUR 59.8 million.
The apartment sales have accelerated in Q3 2021 above expectations, primarily due to the hugely successful kick-off sales for One Cotroceni Park, One United Properties' largest development to date. In Q3 2021 alone, One United Properties pre-sold 385 out of 868 residential units available in One Cotroceni Park. The development has an estimated completion date in Q4 2023. Apart from One Cotroceni Park, the Group also saw a significant increase in the sales at One Verdi Park, a project with 334 residential units, estimated to be delivered in Q3 2022.
"The results we present today to our shareholders are a validation of the leading position that One United Properties holds in the market for premium residential and mixed-use developments. Bucharest continues to show extraordinary development potential. The excellent kick-off of One Cotroceni Park proves the immense opportunity that One United Properties has in expanding its high-end brand into larger scale medium to medium-high income developments. We will continue to invest in similar developments, such as One Lake District and One High District, where we plan to start construction in 2022" said Andrei Diaconescu, co-founder of One United Properties.
In the first nine months of 2021, EBITDA of One United Properties grew 170%, from RON 91.7 to RON 247.8 million while the bottom line increased 198%, reaching RON 191.2 million. The company follows the gross profit as a relevant indicator since significant part of the profit tax represents the deferred tax on profit, generated primarily by earnings
from the valuation of the real estate, which will become taxable only upon sale of these properties, if the case may be. The profit tax for the first nine months of 2021 amounted to RON 48.1 million, of which RON 12.5 million is the actual expenditure and the remaining RON 35.6 million represents the deferred tax.
As of September 30th, 2021, One United Properties had land plots for further residential development under permitting with a total surface of over 150,000 sqm, on which the Group estimates construction of more than 4,000 apartments. Moreover, the company has a strong pipeline of land for its land bank in various stages of negotiation.
ONE UNITED PROPERTIES is one of the leading green developers of residential, mixed-use and office real estate in Bucharest, Romania. One United Properties is an innovative company dedicated to accelerating the adoption of construction practices for energy-efficient, sustainable, and healthy buildings. All the company's buildings have superior certifications for sustainability, energy efficiency and wellness, and the developer has been awarded at numerous galas and conferences in the field. One United Properties is the first real estate developer in Romania to be internationally awarded, being the recipient of the "Best Sustainable Residential Development" in the world at International Property Awards 2019-2020. The company is listed on the Main Market of the Bucharest Stock Exchange, with the symbol ONE.