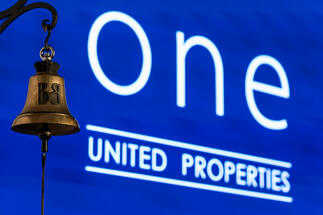 One United Properties, listed on the Main Market of the Bucharest Stock Exchange, published its preliminary financial results for 2021 on February 28th.
"We are thrilled to announce a historical milestone for One United Properties both in terms of revenues, which overpassed 1.1 billion lei, and gross profit of 0.6 billion lei, in the first year since our listing on the Bucharest Stock Exchange. We debuted on the stock exchange having a solid development plan, based on the immense potential of the Bucharest residential and office market, with the intention to continue growing and seize a good part of this potential. In line with our dividend policy, we plan to distribute cash dividend to our shareholders in two semi-annual tranches this year, but considering the 36% net margin we had in 2021, we will focus on the reinvestment of the majority of the profits to benefit from the growth opportunities in the market and to build additional value for our stakeholders," said Victor Capitanu, co-CEO at One United Properties.
Revenues from residential segment amounted to 675.4 million lei in 2021, a 54% increase compared to 2020. In 2021, 699 apartments, 926 parking spaces and 69 commercial spaces and other units were sold and pre-sold for a total of 202.2 million euro, a 115% increase compared to 2020. In the same period of 2020, the Group sold 184 apartments, 249 parking spaces and 7 commercial spaces and other units for a total of EUR 94 million.
The sales have taken off in 2021 primarily due to the sales kick-off in the second half of the year for One Cotroceni Park where the Group sold 479 out of 868 residential units available. One Cotroceni Park has an estimated completion date in Q4 2023, and it is the largest development of One United Properties to date. Moreover, in 2021 the Group registered an almost 10-fold increase in sales of apartments at One Verdi Park, a project with 334 residential units, estimated to be delivered in Q4 2022. A significant uptake in sales was also registered for other developments set to be delivered in 2022: a 69% increase in sales at One Modrogan, a 44% increase at One Floreasca Vista as well as a 43% increase for One Peninsula, which is due in Q2 2023.
"We ended 2021 with an excellent cash position of 508 million lei, driven by net cash proceeds from the IPO and positive cash flows generated from the sales and rental activity. We continue to focus on ensuring cash availabilities to seize opportunities, like our recent investment in Bucur Obor that we have finalized earlier this month. In 2022, we will deliver four residential developments: One Verdi Park, One Modrogan, One Timpuri Noi, and One Floreasca Vista, and we will kick off construction at One Lake District and One High District, two large-scale residential developments that, similarly to One Cotroceni Park, address the medium- to medium-high income client segment. We estimate investments of 1.2 billion lei this year, as we plan to expand our real estate portfolio." said Andrei Diaconescu, co-CEO of One United Properties.
The income from rental of the office division reached 11.8 million lei, a 608% increase. Most of the revenue was generated in H2 2021 alone due to the tenants moving to the One Tower office building. The rental income will continue to grow in 2022 following the
reception in December 2021 of One Cotroceni Park Phase 1 (currently leased at 78%), almost full lease of One Tower (currently leased at 94%) as well as the consolidation of the results of Bucur Obor, company in which One United Properties holds a controlling stake as of February 8th. The Company's current office portfolio consists of 101,000 sqm of office space, and it includes One Tower, One Cotroceni Park Office Phase 1, One Herastrau Office and One North Gate. The Gross Leasable Area (GLA) of One United Properties will reach 136,000 sqm after delivery of One Cotroceni Park Office Phase 2, estimated for December 2022.
In 2021, One United Properties' EBITDA grew 181%, from 217.3 to 611.7 million lei. The gross result reached 603.5 million lei, 192% increase compared to 2020 while the bottom line increased 186%, reaching 506.4 million lei.
As of December 31st, 2021, One United Properties had 159,000 sqm of land plots for further residential development under permitting and in the planning phase (the later with an estimated start of construction in 2022), in Bucharest and in Constanta (Mamaia). The Group estimates construction of more than 4,000 apartments on these land plots. Moreover, the company has a strong pipeline of land for its land bank in various stages of negotiation.
For 2022, One United Properties estimates revenues of 1.52 billion lei and a gross profit of 647.4 million lei. The revenues from sales of residential properties in 2022 are estimated to reach 1.2 billion lei, a 72% increase compared to 2021 preliminary result, while the rental income is estimated at 71.7 million lei in 2022, a sixfold increase compared to 2021 result. The budget for 2022, which One United Properties Board of Directors adopted on January 10th, 2022, is subject to approval by the shareholders in the General Meeting of Shareholders, which will take place on April 26th, 2022.
ONE UNITED PROPERTIES is the leading green developer of residential, mixed-use and office real estate in Bucharest, Romania. One United Properties is an innovative company dedicated to accelerating the adoption of construction practices for energy-efficient, sustainable, and healthy buildings. All the company's buildings have superior certifications for sustainability, energy efficiency and wellness, and the developer has been awarded at numerous galas and conferences in the field. One United Properties is the first real estate developer in Romania to be internationally awarded, being the recipient of the "Best Sustainable Residential Development" in the world at International Property Awards 2019-2020. The company is listed on the Main Market of the Bucharest Stock Exchange, with the symbol ONE.