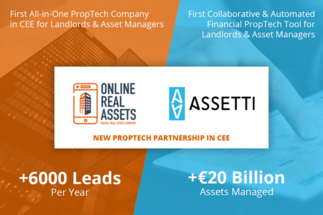 Integrated activity of promoting, marketing and managing real estate assets has never been easier. Online Real Assets helps real estate owners or their representatives to keep track and maximize profits of their assets, improving in the meantime their relationship to the occupiers, shareholders and authorities.
Each property owner is facing 3 steps while running a portfolio and Online Real Assets is now fully supporting with PropTech tool in each and every of them:
Firstly, #FIND TENANTS, they need to put the building on the market. In this digitalized era, the market is a virtual place where meet all the powerful real estate brands and their clients. On this market, your website is your image, so Online Real Estate Assets helps properties to `dress for success`, maximizing the potential of their best attributes and managing their flaws, acting like a true spin-doctor. Customized websites, branding and re-branding services, as well as PR campaigns are just a few of the tools in the highly elaborated make-up process.
Secondly, #KEEP TENANTS, they need to retain tenants. Being an efficient asset manager doesn't stop when your buildings are full. Your clients are now your occupiers and they have special needs: transparence in communication, flawless facility management and a sense of community. Here, Online Real Assets brings the added-value of a next-generation tool, joining forces with Spaceflow (https://spaceflow.io), the community app for happy occupiers, acting as a virtual meeting place and day-to-day dashboard for all the people within the property: tenants and their employees, residential owners within a compound, service providers and property managers.
Last but not least, #MANAGE TENANTS, the asset managers need to maximize profits and keep their shareholders happy. This is why Online Real Assets has decided to close the circle in offering 360⁰ digital services by entering the partnership with Assetti (https://assetti.pro). Assetti works as a digital companion of the efficient asset manager, being able to put together all the financial, legal, commercial and technical data of the properties in their portfolio. Apart from the extremely friendly yet highly professional user interface, Assetti has all functions that are essential in keeping a good track record of the assets, spotting trends, flaws and opportunities, as well as reporting to shareholders and authorities.
''Asseti is the last piece of the circle, we are now able to help landlords and asset managers to find, keep & now manage their tenants and portfolios using latest ProTech tools", says Vincent Vallois, Co-founder of Online Real Assets. "With latest and award winners PropTech tools, we are able to fully digitalized real estate activity and taking CEE market to the next level easing the workload of real estate players".