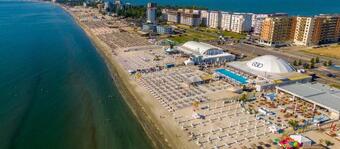 The registration of this delivery volume in 2021 will be synonymous with an increase of over 50% compared to the level registered in 2019, the last year with official statistics available. Over 8,000 residential units were delivered in Navodari – Mamaia in the last five years, according to the National Institute of Statistics and SVN Romania, the vast majority being acquired as holiday homes or for renting during the summer season.
"Mamaia has been experiencing a significant residential development for several years. The pandemic and the international restrictions led to an occupancy rate of over 95% during the period July – August – mid September, with tourists choosing Romania to the detriment of international destinations. The profile market diversified and 2021 will bring the delivery of several large projects, with multiple facilities, such as swimming pools, gyms or commercial spaces – ingredients that will be increasingly necessary in the future for registering a success", says Maria Andrei, vice-president of SVN Romania.
A 70% occupancy rate during she summer season could bring a potential buyer of a double studio in Mamaia a annual yield of approximately 10% in Euros, or EUR 7,500, according to the renting rates from 2020. Obtaining a higher occupancy rate, close to 100%, could increase the revenues to over EUR 10,000 during the summer season – please note that the administrations and cleaning fees could go up to EUR 200 per month.
Mamaia's development potential attracted the delivery of a higher number of residential units compared to Constanta, where, in the last five years were completed over 7,000 units according to official statistics. However, Constanta entered into a growth cycle, with more and more large scale projects, especially in the logistic and residential segments – the last being dominated by local investors and projects targeting the mass market segment.
"Constanta is the second – the third regional economic centre from Romania, according to all macroeconomic indicators, competing with Cluj – Napoca and Timisoara. Population migration is increasing, not only associated with touristic activities; more and more people from adjacent counties are choosing to move to Constanta. The development potential of the city Is significant in the medium and long term and we will see in the future also modern office projects and a growing number of large scale residential projects, with a large number of units and multiple facilities, which together will redefine the housing concept from Constanta", added Maria Andrei.
Constanta, including the neighbouring localities, is the fourth major residential market from Romania, after Bucharest – Ilfov region, Cluj – Napoca and Timisoara, with an annual level of deliveries of approximately 3,700 – 4,000 dwellings. (source: SVN Romania )