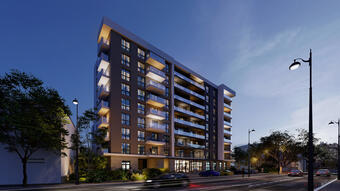 The company is one of the most active developers in Romania, according to the number of residential units delivered each year and currently has 10 ongoing projects. In Bucharest, Prima Development Group is currently signing two residential complexes, and the group's strategy for 2021 includes the continuation of the expansion in the Capital.
After a long experience in Oradea, where it has so far delivered over 3,000 apartments in buildings with a total cumulative value of over 180 million euros, the developer entered the real estate market in Bucharest in 2017 with the start of the Boemia Apartments project. This is a boutique residential complex located in the center of Bucharest, on Mărășești Boulevard no. 125, with low height, ground floor and 5 floors, and a total of 75 apartments, with 2 and 3 rooms, but also duplexes. The project has benefited from an investment of 8.5 million euros, and is currently sold in full. Boemia Apartments is awarded internationally with the distinction of Best Architecture Multiple Residence Romania at the European Property Awards 2019.
The second project in Bucharest developed by Prima Development Group, which will be delivered this year, Core Timpuri Noi, has also received a double international distinction: Best Residential Development Romania and Best Development Marketing Romania at the European Property Awards 2020. Located near the new Timpuri Noi business pole, on Foișorului Street no. 108-112, the Core residential complex brings together a complex of double studio apartments, with 2, 3 and 4 rooms and approaches a smart-minimalist style, with the latest integrated technologies. The investment for this project amounts to 20 million euros, and the 240 apartments will be completed this year.
The portfolio of Prima Development Group focuses on a vision of reliable living space, sustainable house that withstands the passage of time and all projects are made by the internal team of professionals in housing construction, from concept and design, to design, construction and management. (source: Prima Development Group)