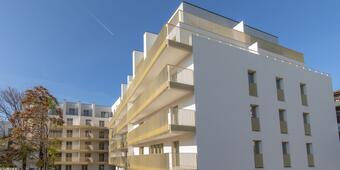 Boemia Apartments is, in fact, the project with which the company entered the market in Bucharest, after a long experience in the construction of sustainable homes in Oradea, where it has established itself as the largest real estate developer in the city.
Boemia Apartments is a boutique residential complex, located in the center of the Capital, on Mărășești Boulevard no. 125, which promotes a new lifestyle for the luxury residential segment of Bucharest: neo-bohemian. Close to the city center, the residential complex has the advantage of being positioned so as to satisfy both the socialization and privacy needs of the residents.
With a low height, ground floor and 5 floors, Boemia Apartments has a total of 75 apartments, with 2 and 3 rooms, but also duplexes. The project has benefited from an investment of 8.5 million euros, and is currently sold in full and handed over to the owners. The architecture office with which the developer collaborated for this project is Starh, one of the most awarded architecture offices in Romania, with a team of specialists in restorations and integration of new residential complexes in the pre-war and interwar building.
Not only the positioning and compartmentalization of living spaces make this complex one with high standards, but also the quality of materials and intelligent solutions used. The exterior walls, but also the partition walls of the apartments are made of the best quality materials, with an increased fire resistance, extended durability, but also with high sound properties. Increased attention was also paid to the quality of waterproofing, carpentry and lighting. In addition, all apartments in this complex are equipped with Smart Home system, which provides a perfect balance between sustainability and technology. Equipped with intercoms and video intercoms, smart sockets and water and smoke detectors that can be accessed not only locally but also remotely, through dedicated applications, the apartments in this complex keep up with the latest technologies.
Prima Development Group's efforts were also recognized internationally, the Boemia Apartments project being awarded the Best Architecture Multiple Residence Romania distinction within the European Property Awards 2019, one of the most important real estate events.
Boemia Apartments follows the philosophy of Prima Development Group focused on the construction of sustainable houses, designed to withstand the passage of time, made by the internal team of professionals of the group, from the concept and design phase, to design, construction and management.
Prima Development Group is also building the Core Timpuri Noi residential project in Bucharest and announced earlier this year its intention to consolidate and expand its activity on the real estate market in the Capital with new projects that will total over 2,500 apartments. (source: Prima Development Group)