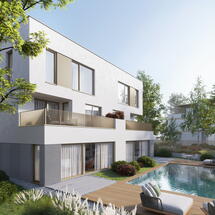 The new stage of the Green Lake project will be developed on a generous plot of approximately two hectares, on the shore of Grivița Lake, in the Sisești area in the north of Bucharest.
Primavera Development acquired the land from the previous owners of the Green Lake residential complex, completed in 2009, with the aim of developing a new project to the architectural and quality of living standards for which the company is recognized.
"Green Lake by Primavera Development aims to be a unique project in an already well-established community, to which it will add value through the development of 35 villas and 30,000 sqm of public spaces. We are investing 30 million euros in modern housing, complemented by a private school and a promenade on the shore of Lake Grivița. The entire project is to be delivered to the community within the next two years" stated Clara Belizarie, Business Development Manager at Primavera Development.
Primavera Development will build in stages 35 terraced, semi-detached, or detached villas with three or four bedrooms, two bathrooms, and at least two parking spaces. Each of these villas will have a height regime of GF+2F, with built areas ranging from 250 sqm to 545 sqm, accompanied by private gardens varying from 110 sqm to 625 sqm. The price of a villa in the first stage of the sale process starts from 425,800 euros.
The first stage of the development of Green Lake consists of the construction of 18 villas with a height regime of GF+2F on the western end of the site, with an execution time of 18 months. Out of these, 30% have already been pre-contracted, confirming the recognized quality of the developer's projects.
The second stage of the Green Lake project will consist of the development of 17 other villas, built on a plot of 6,500 square meters and two apartment blocks with a reduced height of UG+GF+3F and UG+GF+4F, with a common basement of approximately 80 parking spaces, a swimming pool, as well as an exclusive club, which will be accessible to all residents of the Green Lake complex. The execution of this stage has an estimated time of 18 months, and up to now, 25% of the apartments have already been pre-contracted.
The attraction of the Green Lake project is represented by a spacious villa, surrounded by its own private garden on all sides, completely isolated from the other villas in the complex. The features that differentiate it include an underground garage for two cars, two above-ground parking spaces, generous storage spaces, a vast ground floor with an atrium above the living room, a private elevator and a master bedroom located on the second floor.