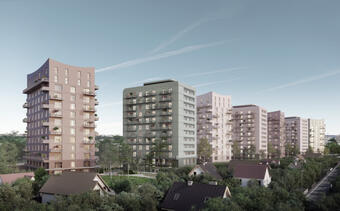 Pleiades Residence is the residential component consisting of 498 apartments and over 400 parking spaces in the multi-level exterior parking and is part of a larger urban regeneration project developed by Prime Kapital on the former "Uzina 1 Mai" platform and will have direct access to the recently completed Prahova Value Centre. The centre, which was opened in December 2021, will further expand with an exciting open-air food market and leisure offer including restaurants and cafes that will have direct openings and access to the large green areas that will be developed as part of Pleiades Residence landscape project.
The residential complex will offer 17 different varieties of units, from double studios to 2, 3, and 4-room apartments, as well as duplexes and penthouses. The completion date of the first phase is estimated to be by December 2023 with an overall project investment at a cost of over 30 million euros. The new urban hub is based on an innovative concept, that includes secondary services and functions in addition to the two primary components, retail and residential, to create a modern and lively urban community that will become a municipal landmark in the future.
Pleiades Residence has been developed to the highest standards of sustainability and energy efficiency nZEB (nearly Zero-Energy Building).