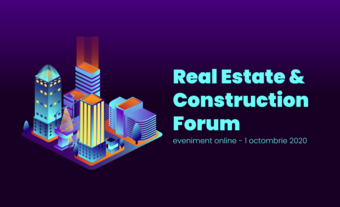 On October 1, 2020, BusinessMark is pleased to invite you to the 11th edition of "Real Estate & Construction Forum", event that will take place online.
We will be joined by important players in the industry, who will discuss the effects of the health crisis on the real estate sector, in the context in which all processes have changed due to the new rules imposed by the pandemic - whether we are talking about rents, purchases or sales.
Together, we will look for answers to questions such as: What are the conclusions of 2020 and what are our prospects for 2021, for each segment: retail - industrial & logistics - office - residential? What will the new normal look like? What are the elements that customers will value when they choose their spaces in the future? What is Romania's position in relation to the markets in the region? What strategies will developers adopt in the future? How have consumer preferences changed in real estate?
With us will be:
ANA DUMITRACHE
, Country Head Romania, CTP INVEST;
ALEXANDRU MIHAI
, Senior Partner, NORDIS GROUP;
ȘTEFAN TUDOS
, Executive Vice President, GENESIS PROPERTY;
OANA DIACONESCU
, Head of Leasing, IULIUS;
ANTOANELA COMȘA
, General Manager, GRANVIA ROMANIA; President, AREI;
MARK OANCEA
, Director de Dezvoltare, VOX TECHNOLOGY PARK;
SILVIU BULZAN
, Leader Systems & Services O&I Romania – Systems & Services Europe, SIGNIFY;
ȘERBAN JUVERDEANU
, Head of Development, GLOBAL VISION;
BEATRICE DUMITRAȘCU
, Vice-President Residential Sales, ONE UNITED PROPERTIES;
ANDREI POGONARU
, Partener, CENTRAL EUROPEAN FINANCIAL SERVICES S.A.;
CRISTIAN PASCU
, CEO, PSC GROUP;
CLAUDIU BISNEL
, Partner & Co-Founder, BRISK GROUP;
ADRIAN CRIZBĂȘIANU
, General Director, VGP PROIECTE INDUSTRIALE;
LUCIAN ANGHEL
, Founder & CEO, ENERGYPAL - TIMEPAL ROMANIA & FMS;
LIANA DUMITRU
, Associate Director, Retail Agency, COLLIERS INTERNATIONAL ROMANIA;
RĂZVAN NICA
, Managing Director, BUILDGREEN;
PETER DOUBLE
, Managing Director, ANDEL Ltd.;
IRINA ALBU
, Sales Director,CORDIA ROMÂNIA;
OVIDIU GRINICI
, Sales Director, IMPACT DEVELOPER & CONTRACTOR.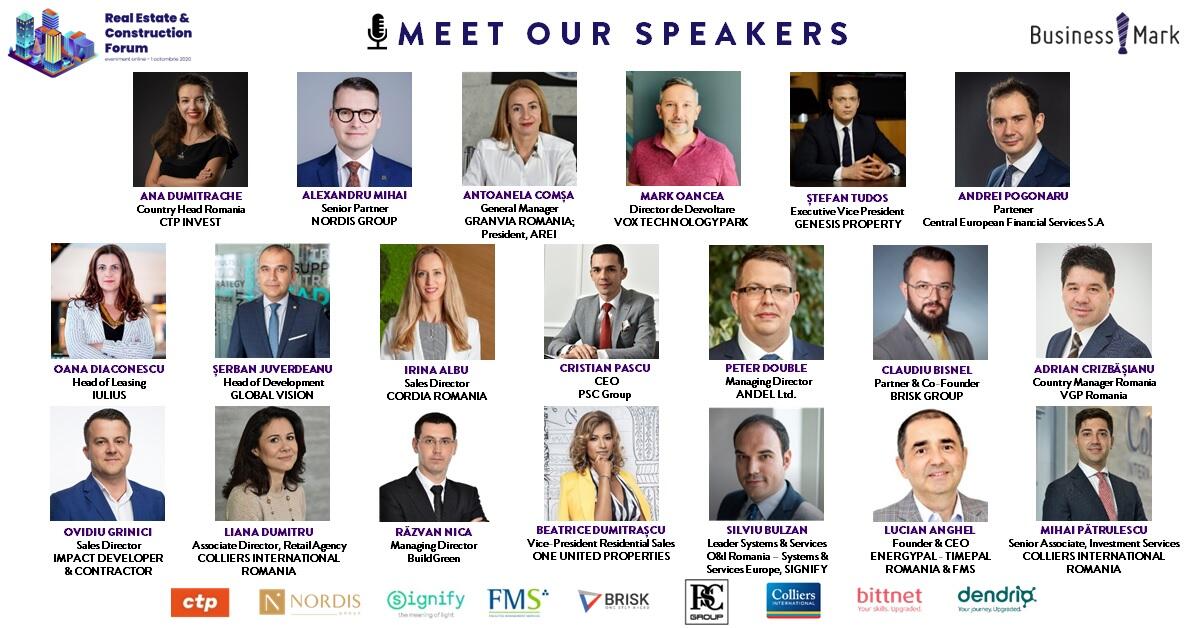 The events moderator is MIHAI PĂTRULESCU, Senior Associate, Investment Services, COLLIERS INTERNATIONAL ROMANIA.
The event targets: real estate investors, real estate developers, real estate agencies and brokers, construction companies, consulting companies, architectural firms, suppliers of construction materials and technologies, traders of construction materials, law firms, experts in the field.
Participation in the event is free, but prior registration is required HERE. For more information, please contact us at [email protected].
Mark your B2B opportunity, together with BusinessMark!
Event organized by BusinessMark, supported by: CTP Invest, Nordis Group, Signify, FMS, BRISK, Colliers International Romania, Bittnet, Andel Ltd, PSC Group.
Technology partner: Dendrio
The official radio of the event: Europa FM
Media partners: Ziarul Bursa, DeBizz, Transilvania Business, Revista Piața, Energynomics, birouinfo.ro, depozitinfo.ro, 1001m2.ro, administratie.ro, Global Manager, Clujul de Buzunar, Financial Market, Finzoom, Jurnalul de Afaceri, Top Business.
BusinessMark is a company that offers integrated B2B services. The main line of activity of BusinessMark is the organization of "own concept" business events through which we aim to offer the Romanian business environment a professional space for discussions and networking. Combining communication methods and business matchmaking, we offer our partners complex development models, connecting them directly with the business environment and creating strategic partnership opportunities.