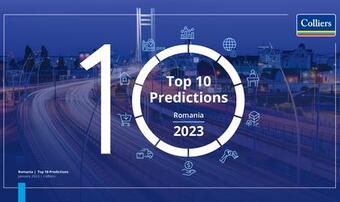 While an exceptional 2022 is likely to be followed by a rebalancing year in the real estate investment segment from an activity perspective, the logistics and industrial market remains one of the most dynamic real estate sectors. However, Colliers consultants point out that 2023 could also be dominated by a lot of political noise, given the presidential, general, local and EU Parliament elections in 2024, which could stop or at least slow down the significant reform that the Romanian economy needs to remain competitive in the long run.
Although there is room for further challenges, Romania's economy looks decently positioned at the beginning of 2023 and no recession is in sight. With the number of employees at multi-decade highs and companies still expanding, consumer spending should remain decent as a tight labor market should fuel wage growth, alongside a hefty bump in the minimum wage.
As the global spheres of influences are being reshaped, the CEE region has become one of the more important regions. This should open the possibility of strong long-term growth for Romania, which is a member of NATO and the EU, but also has other economic advantages, such as the wide gap between labor costs and output.
Politics will be in the spotlight this year. 2024 will be quite eventful for Romania, as the country will see four different elections, and Colliers consultants expect the impulse to continue with significant reforms, especially the painful ones on the fiscal side, to diminish, as politicians will try rather to woo voters with promises and potential populist measures. This is of particular relevance over the medium term, as the EU aid established post-pandemic is both significant and dependent on the adoption of certain reforms.
While the 2020 European Green Deal has accelerated the adoption of ESG criteria, the sharp increase in energy prices seen in 2022 brought further impetus. Consequently, Colliers consultants anticipate seeing an even greater differentiation in the rent/value of a building based on how green/efficient it is. This should apply to all real estate sectors, but particularly offices and industrial.
Unless the general economic outlook deteriorates, demand for office space should remain good. In the context of a quite limited pipeline of deliveries – only 3 sizable office buildings are planned for 2023 in Bucharest, and the delivery schedule for 2024 is currently empty -, coupled with a rather limited vacancy rate for good/modern office buildings, the market could start seeing material signs in 2023, including a more generalized increase in rents, of a landlords' market. On the flipside, there are still big tenants that have yet to take any decision regarding their office space which could alleviate some of the supply concerns.
Investment rebalancing is the watchword for the real estate investment market in Romania. The limited office pipeline delivery calendar is of particular relevance to the investment scene, which relied on such projects, so in 2023 we could see overall turnover halving from 2022's 1.2 billion euros. The short-term outlook looks challenging also when taking into account the period of price discovery which has also started.
Industrial market remains in overdrive. Consumption growth has remained strong in recent years, thanks to a robust labor market, while retailers have expanded their footprint throughout the country. This means that the already limited modern warehouse supply remains far too low in comparison to potential long-term demand, without even taking into account the increased activity on the production side. That said, construction costs have made expanding the network challenging without a material rent increase, which has started to take place as of 2022 and could continue throughout 2023.
Brick-and-mortar retail and e-commerce coexist. Last year saw Romanians returning to older habits, including by shopping much more in shopping centers and retail parks. This has meant that turnover rent already surpassed pre-pandemic levels, in spite of e-commerce remaining at much higher levels than before the pandemic. Since Romania has a largely undersupplied retail scene compared to Western European countries, this co-existence will likely remain in place. Otherwise, developers remain greatly focused on medium/small cities via retail parks, although 2023 will also see one of the biggest shopping centers in the last decade open in Craiova, with a few other big malls on the horizon for the next few years.
If economic conditions become particularly bad, Collier's consultants expect residential prices in Romania to possibly fall towards 2018 or 2019 levels. Otherwise, prices remain much closer to their fair value, particularly when compared to 2007-2008. Meanwhile, demand could also cool down, as higher uncertainties and the increase in mortgage rates make apartments a less appealing alternative. The pipeline for deliveries should also quiet down a bit, amid the higher construction costs, particularly coming after 2022 that was likely a multi-decade high in terms of deliveries of apartments.
After some very strong years, with a limited pipeline of construction projects amid higher construction costs and given the significant uncertainties, developers will likely turn increasingly prudent about the future. As a result, purchases of land plots will become much more opportunistic, meaning they will focus increasingly more on deals involving exceptional land plots or those with an attractive price. Furthermore, the issues with zoning in Bucharest mean that potential buyers will prefer to look past plots with no permits to avoid being tied over the long-term. All of this creates a backdrop for some downside pressures on prices, but Colliers consultants would think that this will not apply to the very best land plots, as these will likely still see robust demand.