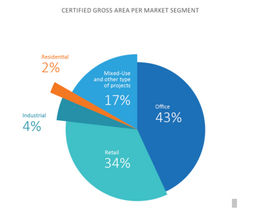 It is interesting to see the impressive boost in green certifications that took place in Romania in the past two years: 2019 saw an impressive evolution compared to the previous years (62 certificates, triple the number achieved in 2018). 2020, especially, surpassed all levels – facing a whopping ascent: the number of certificates more than doubled compared to 2019 (154 certificates across the country), equal the amount of certificates signed in the previews 10 years altogether.
At the end of 2020, more than 50% of green-rated properties were found on the commercial real estate market in Bucharest and nearby. Cluj Napoca (18,6% of the total number of certificates) and Timișoara (10,6%) remain in the top 3 largest real estate markets. Combining all certified areas in Romania accounts for a total gross area of 7,840,000 m2.
With regards to the type of developments, the office segment still has the leading role, followed closely by retail developments.
HISTORICAL CERTIFICATION LEVELS
Increased market competition between 2010-2020 led to higher quality and performance objectives on behalf of property developers and investors in terms of sustainable measures. This tendency has already been visible in the past two years, when the number of LEED Platinum and BREEAM Outstanding certificates more than doubled compared to the previous years. Projects such as LIDL and Penny Market stores in Bucharest and Otopeni (first BREEAM Outstanding certification), Bucharest Business Garden (highest level of LEED Platinum rating), Bucharest Renaul Connected with BREEAM and EDGE (the first multiple certifications achieved by a real estate project), MIRO project (highest level of WELL Building Standar in Romania), Luxuria Domenii Residence (first certified residential project) or, more recently, Sky Tower (the first office building with LEED Platinum for Operations and Maintenance).
Higher standards and ambitious carbon neutrality targets coming from the European Union now enhance the need for daring sustainability strategies from real estate investors and developers, but also from building occupiers. Therefore, these performance levels are expected to be reached more and higher in the following decade, along with stronger and stricter certification criteria imposed by international methodologies.
OUTLOOK
"2021 represents a moment of transition for green building – from a business tool to a strategic pillar in reaching EU targets. Health and well-being, together with carbon neutrality will stand at the center of property development in the next decade: many real estate stakeholders say they are the top issues companies focused on in 2020, and will continue to be among the top issues for the next couple of years" – states Razvan Nica, Managing Director BuildGreen.
Another rise in sustainable certifications will come from renewals and renovations, which will continue in the next decade, as a result of the sharp standards and targets set under the Green Deal auspices, in addition to owners seeking to keep their buildings competitive. More than 95% of public buildings in Romania, developed before 2010, require significant renovation and improvements, which will need to be implemented in the next decades. There is also an increasing tendency on behalf of property owners to renew their sustainability certificates.
Sustainable practices, green certifications and NZEB targets remain and - on the longer run - this will bring new differentiators and opportunities for the projects that are currently under development or in the planning stage.