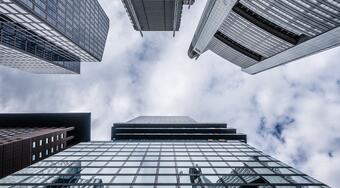 The logistics and industrial market offers the most promising results, with leasing activity increasing by about a quarter compared to the same period last year. And in the office area, the first half of the year in Bucharest saw an increase in rental volume of over 20% compared to the same period last year, at around 160,000 square meters. In the context of rising interest rates, less favorable results were recorded in the area of investment transactions, where volumes halved, as well as in the residential area, where sales have fallen rapidly.

"The current context is not the easiest, as the economy is sending mixed signals, we are seeing some good news and some worrying signals, especially regarding the global economy. The real estate market is following these developments, but each sector is experiencing the present differently. The strongest market is probably the industrial space, where the rapid growth of the local economy and consumer market over the last decade has been growing even faster than the I&L sector. Moreover, more recently, the trend of relocation of logistics and production activities in the context of geopolitical tensions is clearly leading to more fresh demand", says Laurențiu Lazăr, Managing Partner & Head of Investment at Colliers Romania.
As a result, according to public data, around 500,000 square meters of modern logistics spaces were leased in the first half of the year, almost double compared to the same period last year, a figure which takes into account only publicly available information. A quite significant change from other years would be that Bucharest accounts for only a third of all rental transactions, a trend that Colliers experts have been expecting for some time, as infrastructure developments, labor availability and regional development push more and more firms to look for logistics space in areas other than near the capital. In the past, Bucharest accounted for more than half of all rental transactions.

For the office market, the first quarter of the year was very weak, but it was followed by a second quarter that was among the strongest in recent years and might have been considered among the best even before the pandemic. Around 160,000 square meters of modern office space was leased in Bucharest in the first six months of the year, compared to around 130,000 square meters in the same period in 2022. However, new demand only amounted to around 45,000 square meters, down by 40% from 2022.
"There are some signs of a slowdown in the appetite for office rental from companies, simultaneously, a lack of significant upcoming building deliveries on the horizon is observed, which exerts pressure on rental levels.In this context, it could be that if the market recovers a bit we may even run out of space to show to firms. We are already seeing some pressure on rents in areas with no vacancies. Further, in the area of positive news for the sector, it seems that more and more companies are pushing for a return of employees to the office for longer periods, even if the hybrid working format is maintained", indicates Silviu Pop, Director CEE & Romania Research at Colliers.

The retail sector is having a more difficult time for tenants. Although sales have increased and activity is rather above pre-pandemic levels, companies are feeling pressure on margins amid rising rents (including administrative costs). However, appetite remains strong from developers, and plans for this year exceed 200,000 square meters of new commercial space (although some may be delayed in light of the 2024 delays), making it the busiest calendar in over a decade.
The land market also had a pretty solid first half of the year, with a total volume for commercial real estate projects of around 250 million euro, almost half of what we recorded for the whole of 2022. Colliers includes in this number only land for office, commercial and residential projects, without industrial space. Still, interest in new acquisitions appears considerably lower in the second half of the year, with many potential buyers waiting for new opportunities. On the other hand, most owners are not feeling any pressure to give in through lower prices, so activity is expected to slow. Volume in the first half of the year is generated almost equally by the residential and retail sectors.

"In the area of investment transactions we see a halving of volumes to almost €170 million in the first half of 2023. Clearly, rising interest rates and a more uncertain context have created a wider gap between buyers' and sellers' expectations, even though there are a substantial number of projects on the market that can generate significant volume in the second half of the year. How these deals will or will not close will be a challenge for the local market", points out Laurențiu Lazăr.
In fact, there has been a substantial slowdown in real estate transactions compared to the last two years, but Colliers representatives say it is more like a return to normality.
In the residential area, Colliers consultants note an increasing focus by both clients and developers on the PRS area – apartments for rent in dedicated buildings. This comes both against the backdrop of higher interest rates, which have made the monthly rate for buying an apartment higher than an equivalent rent, but also against other trends, such as generational change – with young people looking for more flexibility – or the fact that some companies are trying to offer employees better benefits packages, and rent-subsidized apartments may be one option.
"After an absolute effervescence in the period 2021-2022, seen not only in Romania and not only in the residential area, the year 2023 started with a drop in apartment sales nationwide of around 20% compared to the first half of 2022. High interest rates had their effect, as well as purchasing power eroded a bit by inflation. However, the pace of apartment sales is comparable to that of 2018 and about 30% higher than in 2019, so it doesn't look weak at all", concludes Silviu Pop.