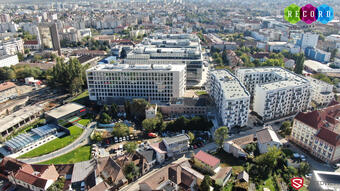 The 2022 Sustainability Report is the result of the materiality analysis conducted in 2022, underlining the company's internal resources and its impact alongside all stages of development, from concept to delivering the project. The report highlights the main points of focus for the company, starting from customer health, safety, and well-being to the care used in local communities' development, and the measures the company has set in place to limit greenhouse gas emissions, with the goal of reaching net-zero emissions by 2050, with 50% of their developments being already assessed for climate change adaptation risks.
Founded in 2014, SPEEDWELL has had the propensity of developing mixed-use projects. Up to date, the company developed more than 560,000 sqm net built surface, representing 105,000 sqm of offices and retail spaces, 4,000 residential units, and more than 10,000 sqm designed for SMEs' needs. Most of the developments are in Bucharest, with a successful record of accomplishment and ongoing projects in other major cities such as Cluj-Napoca, Timișoara and Râmnicu Vâlcea.
To ensure the successful completion of a project and its future impact on the community and environment, the company follows a unique development approach. For example, the design and permit-acquiring phases are preceded by an ESG feasibility studies which play a crucial role in the following stages, such as project funding, development management, land acquisition, and selling. Moreover, in following its short-term and long-term objectives towards ensuring sustainability across all development stages and improving its customer health, safety and performance, SPEEDWELL's best practices align with those of the United Nations (UN) in Business and Human rights, BEROCC (Belgian Luxembourg Romanian Moldovan Chamber of Commerce) and the Royal Institute of British Architects (RIBA). In its day-to-day operations, the company relies on principles such as resourcefulness, accessibility, respect for history, sharing, safety, and desirability. Last year, SPEEDWELL received the ESG award from BEROCC as a token of the company's effort for making every development sustainable.
"It has been necessary from the very start to develop a smart strategy in our business approach. Identifying the optimal location by examining the primary data, we foresee and create the features and facilities that will ensure the well-being of end-users and our investors, relying on efficient architecture and innovative technology. What will become and how the new project will develop are the most important aspects in relation to our stakeholders, the future community that is being created and the development's overall impact on the environment. On this basis, our sustainability strategy has been ingrained in our overall business strategy as we have been following the highest European construction standards from the very beginning." said Jan Demeyere, Architect and Co-Founder of SPEEDWELL
"True real estate projects are designed and implemented to last for life and beyond. Timeless architecture tells us this story and we believe that smart technology helps us integrate sustainability in every decision we are taking in our day-to-day operations, including micro-local decisions that have an impact across our business segments and locations, partners, and future. Today's business environment must follow global sustainability goals to survive, and this is best achieved with a sound local strategy that has at its heart the sustainability component, as the name says, meant to sustain a business, the built environment, and improve the residents' quality of life. Our goal to limit even further the GHG emissions of the built environment to net zero by 2050 is part of our commitment to sustainability and high living standards. Putting in place a Sustainability strategy confirms our firm future direction" said Didier Balcaen, CEO and Co-Founder of SPEEDWELL
The method employed for the 2022 Report consisted in analyzing the standards, frameworks, and international sustainability initiatives that are taken across multiple sectors at the global level impacting on governance, environment, employees (ESG – Environment, Social, Governance). Internal and external stakeholders were consulted through a questionnaire which resulted in nine relevant pillars: customer wellness, local communities, GHG emissions, classified as making a significant contribution to sustainability goals, while material/resource efficiency & land use, occupational H&S, climate change adaptation, biodiversity, corruption, and connectivity did not cause significant harm. These pillars stand at the basis of the company's sustainability strategy.
A common theme in SPEEDWELL's initiatives is the transformation of brownfields and other derelict industrial areas into lively sustainable communities through repurposing the existing buildings in ample urban regeneration projects. As part of the sustainability approach, SPEEDWELL's projects are designed under the concept of transit-oriented development (TOD). The inhabitants of such communities will be able to walk, cycle, and connect with other people based on mixed-use ensembles built on a human scale. Thus, the density and transit aspects are optimized in key areas of a city to keep the community compact, while allowing for a shift between public and private life. Examples of mixed-use developments, such as RECORD PARK, PALTIM, or CITYZEN confirm this approach, as well as the combined residential and office developments, THE IVY and MIRO.
Improving the health and well-being of customers, communities, and employees is a primary focus for the company. For this, SPEEDWELL obtained Excellent scoring from established rating companies, such as BREEAM and GreenHomes for the THE IVY, while MIRO received WELL Platinum, the highest certification a building can receive and the first in Romania. In Cluj-Napoca, RECORD PARK, the mixed-use project, is another BREEAM Excellent rated development. SPEEDWELL is also planning to achieve the BREEAM Communities status for one of their main projects, CityZen, the first such standard to be obtained in Romania, another care dimension in the company's core approach. The company is already working on achieving BREEAM Outstanding standards for its upcoming developments.
As part of its ongoing improvement, SPEEDWELL plans to develop a Code of Ethics that will underline a set of good business practices and ensure compliance with national regulations, integrating and implementing new actions in the new sustainability plan, while keeping an ongoing dialogue with internal and external stakeholders. Meeting regulatory requirements and ensuring transparent communication remain core principles of daily operations.
With more than 10 large projects developed at the national level, such as RECORD PARK in Cluj-Napoca, PALTIM in Timisoara, MIRO, THE IVY, TRIAMA Residence, and SPACEPLUS in Bucharest. The company is currently working on two unique projects inside the capital and in its vicinity, THE MEADOWS and GLENWOOD ESTATE. The developments are planned to be the company's first net zero carbon initiative, devoted to protecting the surrounding biodiversity.
The 2022 Sustainability Report can be accessed in full at the following address: https://www.speedwell.be/wp-content/uploads/2023/08/Sustainability_Report-with-date_230807.pdf