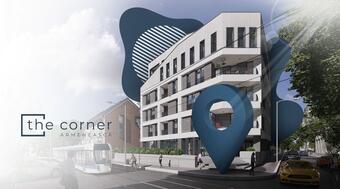 Positioned in a residential area of Bucharest that retains its former charm, on Calea Moșilor 116-122, the project proposes a functional mix and consists of two buildings. They were designed both to restore and enhance a monumental building, and to provide high comfort to the inhabitants of the new body.

The design, as in the case of the first two projects in The Corner series, is signed by the SSAT + architecture office, founded by architect Ștefan Sava and architect Alexandru Popescu, and illustrates a vision oriented towards a modern and flexible lifestyle, with areas relaxation and spacious terraces, right in the middle of urban life.
The modern building offers 27 apartments, studios and apartments with 2, 3 and 4 rooms with ground floor for office space, and the existing monumental building on the land will serve as a commercial and office space for all those who want to fulfill professional dreams.
"The Corner Armenească responds to the current needs of active people, through its ultra-central position and the facilities it has in its vicinity, whether we are talking about cultural or social life. The total investment amounts to 6 million euros and is reflected in the quality of the project and the high standard of living it offers to the beneficiaries. We want The Corner series to continue with projects that add value to the environment and the urban fabric", said Ștefan Sava.
The first two The Corner, Eminescu - Dacia and Floreasca-Rahmaninov, were completed in 2019 and 2020, respectively, and were sold-out from the construction phase. As a footprint of the SSAT + team, all these projects have in common, in addition to modern architecture, the use of roofs transformed into urban gardens.