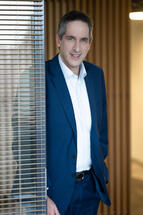 At the same time, the company was awarded twice, in 2021, for its sustained efforts to promote good governance practices in the fields of environment, social and corporate involvement - ESG. GTC is the first developer in Central and Eastern Europe to publish its ESG report, summarizing the group's 25 years of activity in the six real estate markets in which it is present.
At the end of the first nine months of the year, the adjusted EBITDA indicator amounted to 83 million euros, a slight increase compared to the same period in 2020, when it stood at 82 million euros. Funds from operations reached 52 million euros, with a value of funds per share of 0.11 euros. The occupancy rate at the level of the entire portfolio remained constant, standing at 91%, the same as at the end of last year. The value of investments in the acquisition of income-generating assets and in land for future developments amounts to 339 million euros, in all six markets where the company is active.
In 2021, GTC's commitment to using green energy on a large scale throughout its portfolio and to building sustainably was recognized by two awards given to the company's ESG report. Thus, GTC obtained the Silver Trophy in the international competition "EPRA- Recommendations of good practices in sustainability", as well as the award for Best Debut, at the "Competition for Sustainable Development".
"The acquisitions that we conducted over the 2021 allowed to recognize approx. €7 million of additional gross margin, which more than compensated the negative impact from COVID-19 and sale of Spiral. The results after the three quarters of 2021 are showing an upward trend with all the main parameters above the comparable for 2020. Leasing activity is not as strong as in pre-COVID times however we have been able to keep our occupancy at the 91% level. We see retail tenants expanding in all our markets and shopping malls. Our malls, especially in Poland and Serbia, are reviving after each lockdown and showing the turnover results better than even in 2019. In terms of office tenants, they tend to stay in their current locations and not looking for new office space, which works in our favor. Towards the end of the year, we still have a capital increase in front of us. We have identified income generating assets that we want to invest in. We would like to deploy the new funds coming into the Company to grow the business further", said Yovav Carmi, Chairman of the Board to the GTC.