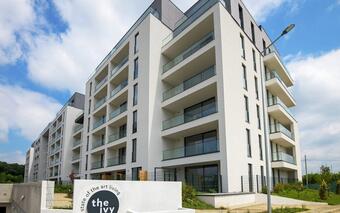 Currently, THE IVY's first building is getting closer to its delivery date, in August, when the 152 apartments are going to be handed over to their owners, while sales for 3rd one will soon be launched.
THE IVY, SPEEDWELL's residential project located in Baneasa, Bucharest, has been granted the Green Homes certification by the Romania Green Building Council.
Green Homes was created with the purpose of improving and supporting the residential real estate sector. Through this assessment, Romania Green Building Council aims to combat social, economic, and environmental challenges, as well illegal deforestation, excessive use of finite natural resources, the use of toxic materials, and poor practices in waste management generated both in the construction and operation stages buildings.
This certification comes in addition to the already existing benefits of the project and reconfirms SPEEDWELL's sustainability focus. For THE IVY, this translates into reduced living costs, a healthier environment focused on the well-being of the residents, as well as the opportunity of receiving a green mortgage that offers a better interest rate and better contractual terms.
THE IVY focuses on the well-being of the residents by also offering facilities such as a restaurant, kindergarten, fitness centre with pool, and proximity shop. Furthermore, it features pedestrian alleys, bike lanes, an interior courtyard with garden and other communal areas.
Alongside the Green Homes certification, THE IVY has also received a BREEAM Excellent certification, proving, once again, that sustainability is key in all SPEEDWELL's developments.
"We are building sustainable, quality projects, that users will be able to enjoy many years from now on. Our developments are our legacy, and we are keen on delivering them the right way. That is why, to us, sustainability doesn't just mean following a trend, it's a way of doing things. And it all comes to the end-users and their needs. The Green Homes certification is another proof showing that, and we are proud to having received it", declares Didier Balcaen, CEO and CO-Founder at SPEEDWELL.
THE IVY features an excellent location in northern Bucharest, right on Jandarmeriei Street. The ensemble will include a total of 800 residential units, from studios, 2, 3, 4-room apartments and penthouses.
The first 152 apartments, part of building 1 of the project, are going to be delivered to their owners in August.
Sales for Phase 1 of the project, featuring a total of 228 apartments, have exceeded 85% of the available stock of apartments. Sales for building 3 of THE IVY are soon going to be launched.